In the dark days of January 2021, I wrote about the measures dentists have been taking to ensure we are safe throughout the COVID-19 pandemic. Most surgeries opened their doors, figuratively if not literally, back in June 2020 after months of only being able to give out advice over the phone or hand out prescriptions for painkillers or antibiotics. The news is full of stories of a 'crisis' in dentistry, and it appears that Covid has had a severely detrimental effect on the nation's dental health.
It's not only patients that are suffering. Dentists, nurses and hygienists are generally tired, emotionally exhausted, and many have left the profession. There's a particular shortage of dental nurses at the moment. This isn't that surprising, considering the average nurse earns less than £20,000 for what was often a thankless job, even before Covid.
We've been open again for over a year, and 'Freedom Day' has allowed the rest of the country to return to some form of normality. But what's changed in the dental surgery? And how will the profession, and healthcare in general, recover in the future?
Firstly, as I write this in early October, nothing much has changed. From a practical perspective, we still split treatment into Aerosol Generating and Non-Aerosol Generating Procedures. For AGPs, we still wear surgical gowns and face fitted FFP3 masks. The time we have to leave the surgery to fallow before cleaning has reduced, but there are still significant barriers to routine care in many practices. This is despite new evidence showing that, in all probability, dental treatment itself is probably not a great Covid risk.
But if dentistry is 'safe', why aren't we working in the same way we were before the pandemic? To understand this, you need to look at our infection control guidance. The initial pandemic infection prevention and control (IPC) guidance was put in place by the government in the days when we knew little about the SARS-CoV-2 virus. Transmission routes were uncertain, and most of the guidelines and public messaging from the government concentrated on the idea of fomite transmission. That is the transmission of the virus from infected objects or surfaces.
We now categorically know this is wrong and that Covid-19 is mainly transmitted via aerosols produced when breathing, talking, coughing or sneezing. It would appear that the early (and in some cases, ongoing) advice to sanitise surfaces, carry out regular deep cleans, and even use fogging to prevent the spread of Covid was misguided. In the early days of the pandemic, it made sense to employ the precautionary principle and cover all bases regarding virus elimination. By now, we should know better. We need to concentrate on those aerosols. The IPC guidance has changed over time, but the dental-specific guidance is very similar to what it was this time last year.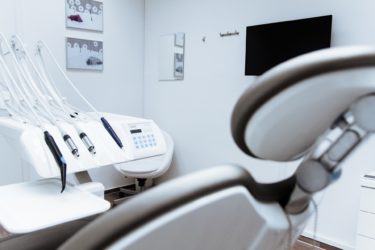 So, where does this leave dentistry? If the risk of covid transmission via surfaces is low, then our surgical gowns and aprons are theoretically redundant. Getting rid of these would undoubtedly alleviate some of the strain placed on the profession. Working in a non-air-conditioned surgery in full PPE during the height of summer was no fun. And the PPE requirements are often taking their toll on the nurses more than the dentists – certainly in the practice I work in, where most of the nurses are women. This is in large part down to the reusable masks that we wear. They're the same as the one's you'd get at your local hardware store (in fact, I got mine from Toolstation and the replacement filters from Screwfix). They are designed with men's faces in mind, and although they do fit women, extended wear is at best uncomfortable, at worst downright painful.
Similarly, if dentistry doesn't contribute to covid transmission, the division of procedures into AGPs and non-AGPs is unnecessary. No AGPS; no two-tier PPE system. We should be able to go back to wearing our scrubs for everything that we do.
The sticking point is breathing. As we've seen, Covid spreads predominantly by being in close contact with people in an indoor environment over a prolonged period. To me, that sounds a lot like my day-to-day work in the dental surgery. And there's no easy way around it. We could keep our FFP3 masks and mandate them for all patient interactions. This is ridiculous for several reasons, not least because you'd probably get a lot fewer patients wanting to be seen if they have to try and communicate with someone who both looks and sounds like the lovechild of Darth Vader and Bane.
More realistically, mandatory Covid vaccination for healthcare workers (a step that's already being looked at) appears to be most likely. While this raises complex ethical questions, there is already a clear precedent, with Hepatitis B vaccination being compulsory in many healthcare roles, including dentistry. It's also likely that minimum ventilation requirements or mandated use of air scrubbers may come into play, allowing the virus to disappear into thin air. One thing is sure; things won't be entirely as they are now forever. New draft IPC guidelines are imminent, and everyone in the profession and in the broader healthcare sphere is hoping that we can stop having to worry about Covid and get back to being able to focus on the patients that need us.