A couple of days ago a friend from Glasgow Skeptics posted a question they had been posed. Someone who was a bit on the conspiracy-side was saying to my friend that the omicron variant (aka B.1.1.529, which was called "nu" by the press before the WHO gave it the official designation) had already been detected and reported on in July, and that clearly something dodgy was going on that they're making a fuss about it now.
There are a lot of questions we might already ask about this claim, but the conspiracy-leaning person provided a link to what they wrongly thought was an article dated 12 July 2021 talking about omicron, naming it "B.1.1.529", and giving details about its discovery in South Africa. I'm stating up front that this was the wrong interpretation, it was in fact a November article, and I'm going to show why that is and how to prove it. Just make no mistake after we look at the evidence it will be crystal clear that no one was reporting on omicron before November.
So my friend asked the Glasgow Skeptics community for thoughts about this. Their skeptics-sense was tingling, and they shared a link to the article, this article: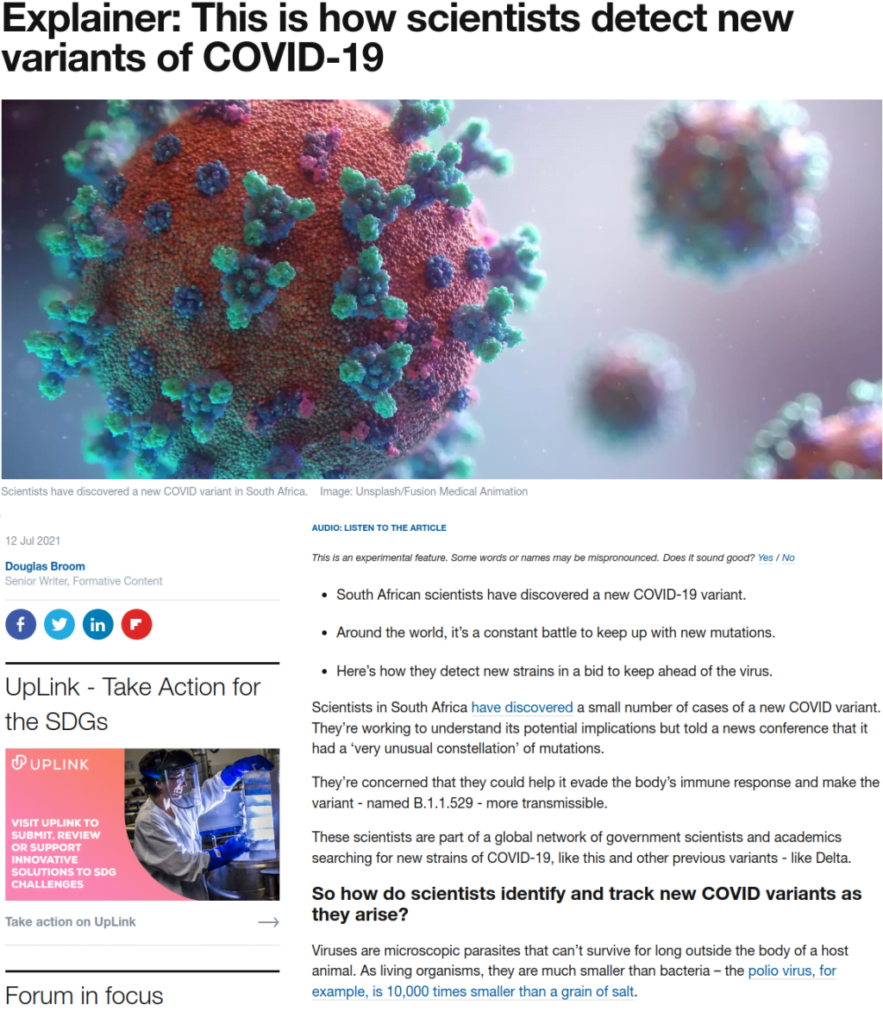 Odd, right? Well, firstly, most browsers have an option to view a page's source code if you right click on the page and select "view source", or if you go to one of the menus in a browser like Firefox. A very quick look at the source code showed that this was little more than a mistake. The source code records when a page is edited and updated, and this page had been edited very recently at the date that I first checked it (26 November):
"dateCreated":"2021-07-12T10:02:00Z","datePublished":"2021-07-12T10:02:00Z","dateModified":"2021-11-26T11:07:20Z"
So that's already a clear indication of what happened here. Created on 12 July, but updated very recently.
News articles get updated all the time when new information comes in or something needs to be corrected. Normally they get extra text saying "this page was updated on this date, here is the new information that was added". If the article or post is substantially changed, the dateline may be replaced entirely.
This article simply failed to do that. And we can check because public websites, especially ones with lots of traffic, get archived and cached by repositories like the Internet Archive, which you can then view with the Wayback Machine. Here was the article as it appeared on 12 July 2021, when it was actually first published:
Now the original URL, which was weforum.org/agenda/2021/07/how-scientists-detect-new-covid-19-variants/, redirects to the new URL with the updated dateline, weforum.org/agenda/2021/11/how-scientists-detect-new-covid-19-variants/. Note the change in the month in the URL to coincide with an update dateline.
The thing is, you really don't need to check the Wayback Machine and the HTML source to already be skeptical of this conspiracy theory. Again, articles get updated all the time. Though if you ever encounter a theory that does seem plausible to you, hopefully there's a lesson in here about how you view internet sources for information.
There are surely lots of lessons, actually, but one I would like to point out explicitly is that conspiracy theories are often defined by a lack of skeptical inquiry, a lack of investigation, of questioning, of routine fact-checking. Because as much as conspiracists bill themselves as the critical ones, what makes a conspiracy theory a conspiracy theory is jumping to conclusions, then filling in any gaps with post-hoc rationalisations.
Checking the source and viewing archived pages wasn't about mining for something I wanted to see, but was just due diligence. Whatever evidence you have for your beliefs, whatever source they come from, you need to know it inside and out. If you can't even be bothered to ask basic questions about the origins of your beliefs, you're very likely misinterpreting them (and this goes for everyone from conspiracy theorists to regular people to esteemed scientists, we're all guilty of this at least sometimes and should all be careful).