Late at night, London time, on October 21st, I received the news that James Randi had died. He was 92 years old. I am one of thousands across the globe who were deeply saddened by his passing. His work had a huge influence on me and I was honoured to be his friend. I wanted to take this opportunity to present a few reflections on what James "The Amazing" Randi meant to me personally. I will not even attempt to summarise Randi's truly amazing life. For some insight into that, have a look at his Wikipedia page. Instead, I want to describe a few of my own interactions with him over the last half-century or so.
I think James Randi first came to my attention when Uri Geller first appeared on British TV screens back in the 1970s (however, knowing what I know now about human memory, this could well be a false memory!). Back then, I was very much a believer in the paranormal and I was hugely excited by Geller's claims to have genuine psychic powers – claims that seemed to be supported by a number of well-respected scientists. However, I have a memory of seeing some guy on TV who also appeared to be able to demonstrate the same abilities – but who insisted that what he was doing was magic tricks. If this is a genuine memory, that that guy must have been Randi. However, at the time what he was saying seemed to teenage me to be entirely irrelevant. Okay, so you could do stuff that looked the same by trickery – but Geller wasn't doing it that way, was he? He was using psychic powers! Oh, the gullibility of youth!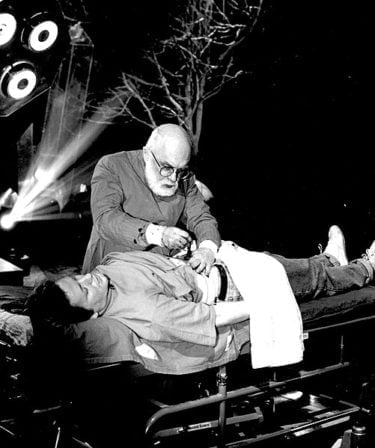 For me, the world of scepticism did not really open up until the early 1980s. I read James Alcock's Parapsychology: Science or Magic? and realised for the first time that there were plausible alternative psychological explanations for many ostensibly paranormal phenomena. There were many references in that book to a certain Mr James Randi and it was not long before I was enjoying his books, including The Truth About Uri Geller and Flim-Flam. I was well and truly hooked but never dreamt at this stage that I would one day be able to count both Jim Alcock and Randi himself as personal friends.
My interest in all things sceptical began more or less as a hobby but gradually I began to publish the odd paper in the area of anomalistic psychology from the early 1990s onwards, often citing Randi's work in the process. I think I first saw him speak live at a talk he did around then in London but I did not get the chance to speak to him directly on that occasion. If my memory is correct, I think I first got to speak to him face-to-face when he came to Goldsmiths to do a TV interview for a programme that we were both appearing in. That must have been in the early 2000s as the programme, The Man who Paints the Future, was first broadcast in 2003. I think the first time I really got the chance to have a proper conversation with the great man was at a European Skeptics Congress but I can't for the life of me remember which one. I do recall that I was sitting with a small group of friends at a table outside a restaurant. Randi joined us and proceeded to entertain us for the evening with anecdotes about his amazing adventures. A very memorable evening!
An even more memorable evening was to follow. In 2008, Randi once again visited the UK and I was one of the organisers of "An Evening with James Randi and Friends" at Conway Hall in London. Tickets for the event sold like hot cakes and the event itself was a huge success. Richard Wiseman acted as host for the evening, as always doing a superb job of keeping the audience entertained and amused as he introduced each speaker. Prior to the main event, four speakers (myself, Simon Singh, Ben Goldacre, and Susan Blackmore) each gave a short presentation describing the influence that Randi had had on our own thinking. There is absolutely no doubt, however, who was the star of the show. At 79 years of age, Randi had lost none of his spark and he kept the audience spellbound for over an hour, after which he received a rapturous (and lengthy) standing ovation. Jon Cohen wrote a review of the evening, describing it as "a huge success and … in all likelihood the greatest sceptical event ever to have taken place in the UK". Who am I to argue?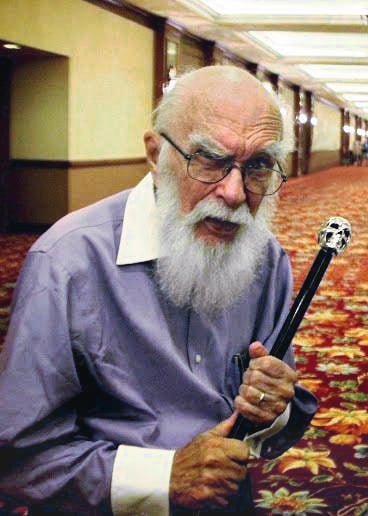 The following year, Randi was diagnosed with colorectal cancer. Following an operation to remove a series of small tumours from his intestines, he began a course of chemotherapy. He found that the chemotherapy played havoc with his biological clock and appealed to friends to stay in touch via emails at any time of day or night. As it happened, I spent several weeks in Taiwan that year on a research and teaching visit, along with my wife, kids, and mother. I decided to write keep a diary of our experiences and asked Randi, somewhat tentatively, if he'd like me to send him instalments as I wrote them. He immediately agreed and was very complimentary about my literary efforts! I'd like to think that I helped him in some small way to get through this difficult period. He made a good recovery but his illness did leave him somewhat frailer.
Back in 1964, Randi had offered $1000 of his own money to anyone who could demonstrate paranormal powers under controlled conditions. By 1996, the size of the prize had grown to a million dollars and it stayed at this level until the board of the James Randi Educational Foundation terminated the prize in 2015. Not unreasonably, in general claimants were required to pass a preliminary test prior to formally undertaking the "Million Dollar Challenge". These preliminary tests were carried out by people that Randi knew and trusted. Thus, the Anomalistic Psychology Research Unit at Goldsmiths tested a number of dowsers and various psychics over the years, all of whom failed to progress beyond the preliminary test stage. This obviously reduced the workload for Randi considerably!
Randi's enemies – and he had many – would often claim that the prize was a con and that Randi would use duplicitous means to ensure that his tests could never be passed. It was not at all unusual for supporters of a given psychic to begin by belligerently asserting that, "Skeptics will never test <insert name of psychic in question> because they know s/he would pass the test and they would be shown to be the fools that they are!" Once the challenge had actually been accepted and a test was being designed to assess the claim in question, these same people would often change their tune and urge the psychic not to take the test because, "It's a trick! You can't trust Randi to make it a fair test!" Having sometimes worked directly with Randi in designing tests for claimants I can confidently assert that this accusation is completely untrue. Randi would go to great lengths to design a fair test with the full collaboration of the claimant. I recall on one occasion we were designing a test of a particular claimant and, because of the design of the test, the ultimate success or failure on each trial depended upon the toss of a coin. "Don't do it!" one fan of the psychic declared. "Randi is a magician and magicians have loads of ways to make a coin land the way they want it to!" This may well be true but Randi would not be the one tossing the coin – not least because we were carrying out the test in the UK and he was in Florida. I mean, I know he was good but even he wasn't that good.
Our paths would cross several more times over the years and he always made me very welcome. I know he could be a grumpy old bugger and he did not suffer fools gladly but maybe he made an exception in my case? I always saw the kinder, gentler side of his personality whenever we interacted. In 2017, I heard that Randi would be attending the European Skeptics Congress in Poland. I made sure I attended as I felt that this would probably be the last time I would see Randi in the flesh. By this stage, we were on hugging terms but I was a little afraid that if I hugged him too tight, I might break him. He still had that twinkle in his eye though. Sadly, it was the last time I saw him.
With the passing of James Randi, we have lost one of the brightest minds we had – but his influence will live on through those whom he inspired.