This article originally appeared in The Skeptic, Volume 15, Issue 1, from 2002
How difficult is it to convince academics of the truth of something totally false? Frighteningly easy. Sometimes you don't even have to try, as was proved by a recent unintentional hoax which fooled several supposed "experts" on nineteenth-century culture.
One of the leading internet resources for nineteenth century scholars is an e-mail discussion list which includes over 1000 academics working on Victorian history and literature. Whatever you need to know about the Victorians, someone on the list will have the answer. To spare members' blushes, I won't give the list's name.
During the 2001 summer vacation, list members began to have fun. One member made a passing joke about a pet elephant belonging to Victorian novelist Elizabeth Gaskell. Of course, no such creature ever existed. Picking up the joke, another participant replied with tongue firmly in cheek, "But I thought everybody knew about the elephant?". More people joined in the fun, and over the next few days a series of delightfully frivolous emails constructed a complete fictional biography for the mythical elephant, whose adventures grew stranger and stranger.
According to these imaginative academics, the elephant was presented to Mrs Gaskell by an Indian fan. It arrived by post, in a crate with a rhinoceros. Mrs Gaskell sent the rhinoceros back, but the elephant became her constant companion and accompanied her on reading tours. She dosed it with opium to keep it from following its natural instincts during the mating season. It used to fall into drug-induced slumber in the doorway of the Reverend Gaskell's study, preventing him from getting in to compose his sermons. In 1859 the elephant was murdered by a jealous rival who had found out about Mrs Gaskell's passionate affair with Branwell Brontë. Mrs Gaskell was heartbroken and kept the elephant's left tusk as a memento. Three different museums now claim to have the tusk in their collection.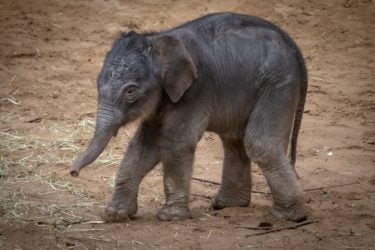 So far, so unbelievable. Then the story got even more extravagant. The elephant had, of course, arrived complete with its mahout, Ahmed. Ahmed's memoirs are under lock and key in the India Office, after being found in a trunk bought from a white elephant sale. The only other copy of them was lost a few years ago in an air crash (the plane, of course, being a jumbo jet). The memoirs are too politically sensitive to release, as they reveal that he was a double agent in the Indian Mutiny. He used a code based on elephant diseases to communicate with Mrs Gaskell, who was in fact the first head of MI5.
Would anyone believe this? Surely not. But it suddenly became evident that several unwary academics had fallen for this unintentional hoax, and believed firmly in the elephant's existence. The perpetrators apologised profusely and retreated in embarrassment. As one list member commented, "Elizabeth Gaskell's elephant is actually a shaggy dog".
But the story raises serious points about academic credulity. Over the past year or two newspapers have carried claims that Byron was a psychopath, Charlotte Bronte was a murderer and Victorian painter Walter Sickert was Jack the Ripper. Are these any more believable than Mrs Gaskell's elephant? The press are happy to promulgate such unlikely theories, and can usually find a "rent-a quote" academic or two to back them up. But what has happened to academia when such things can so easily be accepted as true?
Maybe it's time I gave up serious academic work. I've just had this great idea for a money-spinning book about how Florence Nightingale murdered Prince Albert during her lesbian affair with Queen Victoria. After all, if people believe in Mrs Gaskell's elephant, they'll believe anything!