Submit content / news
For the printed magazine:
This email address is being protected from spambots. You need JavaScript enabled to view it..
For the website or news columns:
This email address is being protected from spambots. You need JavaScript enabled to view it..
Read the submission guidelines.
Welcome to The Skeptic Magazine (UK)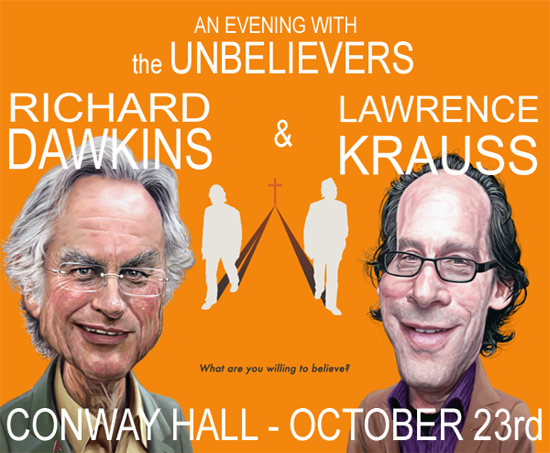 The Skeptic Mgazine presents Richard Dawkins and Lawrence Krauss live at Conway Hall, to discuss their recent documentary and the state of science and reason in modern times.
The Unbelievers documentary follows Richard Dawkins and Lawrence Krauss as they speak publicly around the world. It includes interviews with Stephen Hawking, Ayaan Hirsi Ali, Sam Harris, Cameron Diaz, Woody Allen and many others.
Watch the documentary, then join the Q & A with Dawkins and Krauss at the event. If you want to take the DVD home, it'll be available to buy and get signed.
6-6.30 Drinks available
6.30 Documentary starts
7.45 - 8.15 Interval
8.15-9.15 Q & A with Prof. Richard Dawkins and Prof. Lawrence Krauss
9.15-10 DVD signing
Limited tickets available, so hurry to buy

Hello readers and sunscribers. Just a quick note to tell you that the next issue is on its way!
As you have probably guessed, this summer has been very demanding for us at Skeptic Towers, and I'm sure you don't need telling that we're a bit behind schedule. But the next issue is coming along beautifully and should be with you soon.
Please check back for updates, and thank you so much for your continuing support
Deborah x
Editor
The Ockham Awards 2013 were presented at The Palace Hotel in Manchester on Saturday night at QEDcon 2014.
As always, our aim was to provide as much exposure as possible for people who do wonderful skeptical work throughout the year, virtually always with their own free time and money. Thank you to Richard Wiseman for once again being our wonderful MC.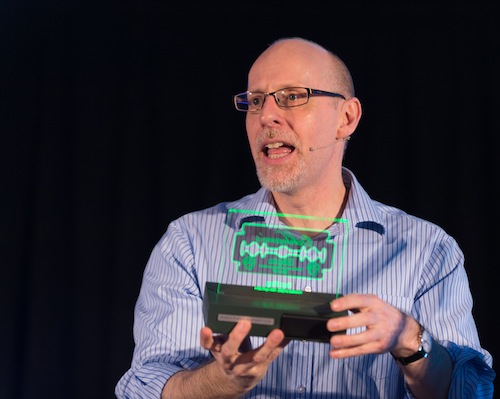 In the first three categories, the shortlist is compiled by online voting from the readers, and the winners are selected by our panel of judges.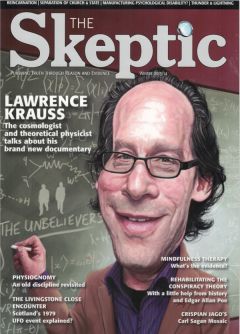 Features
Lawrence Krauss
The cosmologist and theoretical physicist talks about his brand new documentary
Mindfulness Therapy
What's the evidence?
Rehabilitating the Conspiracy Theory
With a little help from history and Edgar Allan Poe
Crispian Jago's
Carl Sagan Mosaic
Physiognomy
An old discipline revisited
The Livingstone Close Encounter
Scotland's 1979 UFO event explained?
This, plus all the usual columns, cartoons and extras.