A herbal remedy company has been ordered to recall its sensitive 'natural' Ayurvedic skin cream due to the presence of a potent steroid in the cream.
The product, supplied online by Dermaved, was found to contain clobetasol propionate (0.001%): a steroid that belongs to the most potent class of topical steroids. In the UK, clobetasol propionate is available by prescription only for conditions such as psoriasis and eczema in cases where other, milder steroids are not effective. Topical clobetasol propionate is not recommended for children under one year old or for anyone who might be pregnant, and should be used only cautiously and with medical supervision by children, teenagers, or people who are breastfeeding. In the UK, clobetasol propionate is marketed under the product name "Dermavate" – a name that a cynic might point out is not terribly far away from the name chosen for the Ayurvedic skin cream.
All topical steroid treatments come with the risk of side effects. Clobetasol propionate can cause skin irritation when first used, and with long term use can cause skin thinning and depigmentation. More serious (but uncommon) side effects of clobetasol propionate can include problems with the adrenal gland, which causes symptoms such as vomiting, muscle weakness, loss of appetite, weight loss, dizziness, or mood changes. With prolonged use in children, it is possible that clobetasol propionate can slow down normal growth, which is why close medical supervision is required when using this steroid in children and teenagers.
Despite Dermaved containing an incredibly potent steroid, a number of Google reviews cite the mistaken belief that this product is natural or herbal.
One reviewer, three months ago, said:
I have had really bad eczema for 13 years, I was given steroid cream by the western doctors which just peeled my skin off. I have used Ayurveda treatments and Dermaved cream for 10 months and my eczema has completely cleared up. I have given samples to other people who are amazed and one child calls it his unicorn cream. I recommend this cream as no other cream has helped, it was such a miracle to cure myself of eczema to relieve the suffering, and I highly recommend.
While another, six months ago, said:
I was suffering with very itchy, sometimes dry eczema for about 3 years. No success with western medicines or creams and I was trying all sorts of steroids, hormonal etc products. After about 1,5 weeks using dermaved cream, my eczema patches were basically gone. First application already gave a big relief. I have also used it for spots on face and when I burnt my hand. It always fixes all skin problems! This cream should be given to all people with skin disorders, once your skin is calm, you mind is calm.
But perhaps more concerning is the number of reviewers who mention using this cream to treat their children, including babies less than one year old. Three months ago a reviewer wrote:
Was researching holistic remedies for my 7 month old daughter's eczema and happily stumbled upon Dermaved in an Ayurvedic article […] I've noticed results in days! Super happy with this for my little one.
While another reviewer talked about using the cream on "my 4 year old daughter and 11 month old son from when they were newborns", saying:
I was reluctant to use steroid cream as it seemed far too harsh on baby skin. I wanted natural ingredients with effective healing properties.
It is clear from the majority of these reviews that these reviewers had no idea that this product contained a pharmacologically active ingredient that could be risky for children under one year old.
What isn't clear from the media reports on this product recall is how exactly Dermaved marketed their cream, or even who it is who sells it.
Dermaved Natural Ayurveda Skin Care
Currently, the Dermaved website shows a statement that reads: "Products are currently unavailable due to a manufacturing issue." The website is not available at archive.org as it has been "excluded" from the service.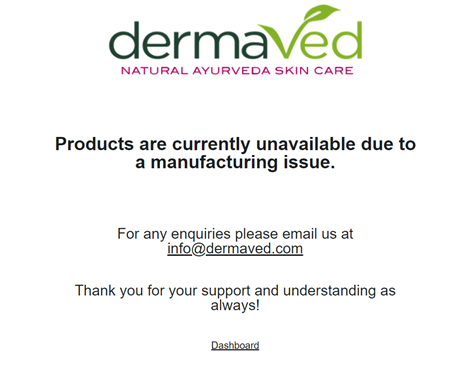 Dermaved Natural Ayurveda Skin Care is trademarked to Geoff Sewell, Deepika Rodrigo and Ajanta Kaza. While Dermaved itself isn't a registered business, Geoff Sewell and Deepika Rodrigo do have two registered businesses to their names: The Ayurveda Clinic Ltd. and Ayurveda Training and Products UK Ltd. These two businesses do have websites that are still functional.
The Ayurveda Institute
The Ayurveda Institute describes itself as one of the largest and most pioneering providers of Ayurvedic education outside Asia. According to their website:
The Ayurveda Institute UK is an international school based in London, specialising in authentic, vocational teaching of Ayurveda from the classical Sanskrit texts. Uniquely benefitting from the symbiosis with the well established Ayurvedic Clinic and the Association of Ayurvedic Professionals UK, the Institute offers unparalleled instruction in its field.
Their team consists of four doctors of Ayurvedic medicine, plus a Sanskrit teacher. The Institute offers three courses, of which the Ayurvedic Lifestyle & Nutrition-level 1 costs £4,800, and the Ayurvedic Practitioners Course-level 2 costs £3,950 and first requires completion of the Lifestyle & Nutrition course. The FAQs on this latter course explain:
The list of disorders below, that will be covered during the year is not exhaustive. Please note that particular emphasis will be placed on a number of disorders. Important note: the ability to treat disorders at certain levels of acuity always depends on the knowledge and experience of the practitioner.
The list that follows includes conditions such as endometriosis, infertility, tuberculosis, AIDS, chronic fatigue, fibromyalgia, diabetes, children's eczema and cancer. This concerns me: a course which apparently gives the student the ability to practice as an Ayurvedic practitioner would claim to teach students on treating serious conditions such as AIDS, diabetes, tuberculosis and cancer.
The Ayurveda Clinic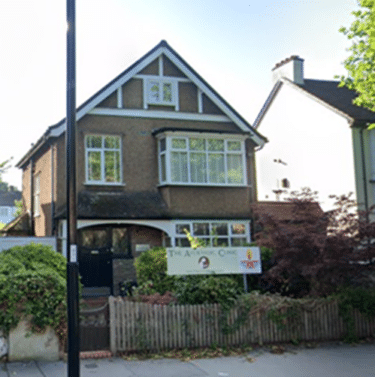 Under the Ayurveda Institute, Dr Deepika Rodrigo runs the Ayurveda clinic.
The Ayurvedic Clinic based in London, has been operating discreetly for over two decades, its premises, gardens and teaching Institute hidden behind a pleasant exterior. Behind its doors, the highly experienced Ayurvedic physicians have worked tirelessly to counsel and restore thousands of people to balance and to bring them relief from their suffering.
The clinic claims to provide treatment across three areas: diet and nutrition, herbal food supplements and formulated herbal medicines, and/or Ayurvedic massage therapies and panchakarma therapy.
According to the testimonials of the clinic, at least some clients are prescribed Dermaved cream. One user wrote:
I suffered with eczema since early childhood. I had been hospitalized, treated with steroids, antibiotics and cyclosporine. Within only 2 weeks of regular application of Ayurvedic herbal skin preparation Dermaved and Ayurvedic herbal powders, and diet, my skin improved enormously. I feel happier, healthier and my skin is so much better. I have stopped all hospital medications. I am so much better in myself these days, it is hard to imagine how I was before.
While another said:
I am happy to recommend this Ayurvedic herbal cream and treatment to others with skin problems. I found that despite taking prolonged courses of antibiotics I would continue to experience the painful burning sensation and redness of Rosacea over my face. Applying Dermaved on a daily basis has managed to control these symptoms within 4 months.
Dermaved
Despite my research, I was still yet to find any actual claims from Dermaved, or the Ayurveda Institute, or the Ayurveda Clinic about their magical herbal cream – which actually turns out to contain a pharmaceutically active ingredient. Fortunately, their social media accounts were a little more forthcoming.
The Ayurveda Clinic's Twitter account has been suspended; we can only speculate as to why. However, their Facebook account is still active. It contains a few concerning claims relating to the COVID-19 pandemic, including a link to a video titled "COVID-19 | Ayurveda Treatment | Cure for Corona Virus", which has been removed from YouTube for breaching YouTube's guidelines. Deepika Rodrigo's YouTube account also contains a video talking about COVID-19 from "The Ayurvedic Perspective", in which she asks "why are we killing our children with vaccination?", while explaining that vaccines take a long time to develop, and that the virus will simply mutate in the meantime.
The Ayurveda Clinic's Facebook page links to a number of their previous newsletters, and it was there that I was finally able to find mentions of Dermaved. The first appeared in several newsletters prior to September 2020, and described Dermaved as:
A unique preparation of 25 naturally active herbs with Acacia, Venivel and Coral Tree seed plant extracts blended with Shea Butter.

Instantly relieves itchiness, discomfort and inflammation associated with eczema psoriasis, dermatitis and rosacea. Alleviates the stress of dry, sensitive and troubled skin, helping it to heal and repair. Made from sustainably wildcrafted herbs according to an ancient Ayurvedic formula.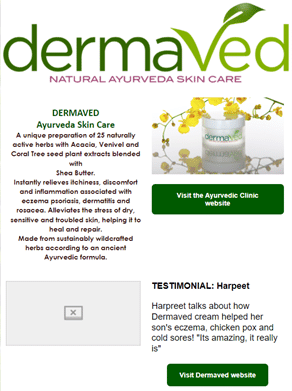 It is clear that the cream is specifically being marketed as a treatment for eczema and psoriasis – two conditions for which topical steroids can offer some relief and medical improvement.
The second advert from January 2021 talked of the launch of the new Dermaved website.
We have now launched the new website for Dermaved and the new products available as part of the Dermaved range. You can now order Dermaved online quickly and easily and read all about the remarkable story of Dermaved, testimonials and our new blog on skincare.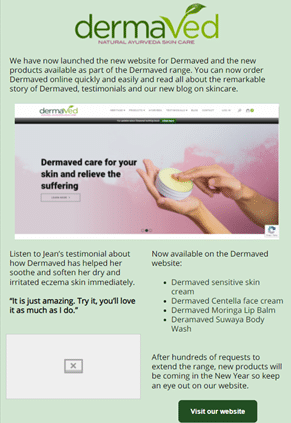 Of course, we can currently see none of this information, because Dermaved's website only shows the statement about the product being unavailable due to "a manufacturing issue".
Eczema cream
Eczema and psoriasis are really common issues for a lot of people. Eczema is especially common in children and babies. Eczema can range from being mildly uncomfortable to completely debilitating and a baby with particularly unmanageable eczema can be incredibly difficult to manage for that child's caregiver.
I can imagine being a scenario: let's say I was the mother of a newborn baby. That baby, my first, has eczema and is in some considerable discomfort. Perhaps she cries all the time and both she and I are unable to get any sleep. Maybe she scratches her skin until it bleeds and I worry about infections. We ask the doctor for help, but we are told that babies get eczema sometimes, and they will likely grow out of it. Maybe, eventually, they offer me a topical steroid, but I'm reluctant to use it because I know they can cause harm in babies. Maybe while I'm desperately tired and worried about my new baby I talk to the people in my yoga class about why I'm so exhausted, and one of them recommends I try Dermaved. I read about it, and it seems like it's herbal, all-natural and doesn't have any steroids in it, so I give it a go. And it works, my child's skin improves, we all sleep better and she's in less pain.
Now perhaps I think that Ayurveda is a reliable treatment modality – sure there's no evidence it works, but researchers don't get around to researching everything, and I know this cream definitely worked. So maybe I go to the Ayurveda Clinic the next time I have a health concern. Maybe I start to use more herbal remedies and start to get a little mistrustful of conventional medicine. As we've written before, it can take a small series of steps to lead a person down a harmful and dangerous path.
That's not the only harm here; the other harm is that people have been using a pharmaceutically active ingredient without proper information, guidance or medical supervision. That directly challenges the idea of informed consent, and has the potential to cause harm to those patients. Topical steroids should not be used on babies under one and should be used with caution in children, teenagers and pregnant or breastfeeding people. That involves medical observation, but it also means that topical steroids should not be used long term. Most medical doctors will provide a regimen to use the topical steroid over a period of days or weeks, in order to get a particular skin complaint under control.
Dermaved have been ordered to recall their product, but so far they have only stated that this is due to "a manufacturing issue". Some people are angry, and a week ago one person wrote a Google review that said:
I am in complete shock to receive an email from the manufacturer telling me that the batch I bought contains a prescription only steroid. I have been applying this so called herbal cream on my 1 year old for months on a daily basis. Beyond furious!
In my opinion, they are right to be angry – they have been sold an unlicensed medical product and have been given the impression that it is safe to use regularly on an infant.