Next week, people around the UK will take to the polls in a series of elections to determine who will be their local councilor, who will be their police and crime commissioner, and in some cases who will be their city's mayor. London is one of those cities holding a mayoral election, as its people decide whether to stick with Labour's Sadiq Khan – the candidate who replaced Boris Johnson in 2016 – or whether to choose one of the other available candidates.
Although Khan is the overwhelming favourite, Londoners could instead opt for the unfancied Conservative candidate Shaun Bailey, who is polling at around 29%; or they could put a check in the box of Green Party candidate Siân Berry or Lib Dem candidate Louisa Porritt, both of whom are polling at around 8%.
However, if quantity were the only metric which mattered, Londoners are arguably spoilt for choice, as they could vote for any one of the sixteen other candidates running. Among those are UKIP candidate Peter Gammons, an evangelist and pastor with a doctorate in Pastoral Psychology from Canon Theological Seminary in Florida, which has been described as "an establishment that is not governed by the US Department of Education and gives out 'PhD's after a maximum of 126 hours of work".
On his website, Gammons claims to have spoken to "the largest crowd in history", which is far from his most notable claim – here he is telling evangelist Sid Roth about the time he used the power of prayer to make a deaf wheelchair user hear and walk:
As recently as November Gammons explained that while he is not anti vaccines, he is "not prepared to be a guinea pig for a new untested vaccine" and "believes the risks of an untested vaccine are far greater than the risk of Covid-19". Unlike Gammons, Londoners who decide not to get vaccinated can't rely on a direct line to the Almighty as backup.
Running alongside UKIP's Gammons is former UKIP member David Kurten, now of the Heritage party, who is running on a platform of warning against "cultural Marxism", believes homosexuality is linked to child sexual abuse, has shared myths about "transgender activists", and as recently as last month was discouraging people from taking the COVID-19 vaccine.
If neither the UKIP nor the former-UKIP candidate were sufficiently singular in their stance against political correctness, Londoners could vote for former actor Laurence Fox, whose "Reclaim Party" – funded by former Conservative donor Jeremy Hosking – is running on an anti-woke 'PC gone mad' platform. Fox is against COVID-19 restrictions and against the wearing of masks, and as recently as last month was discouraging people from taking the COVID-19 vaccine. Last week Fox explained that "There's no need to "vaccinate" the healthy".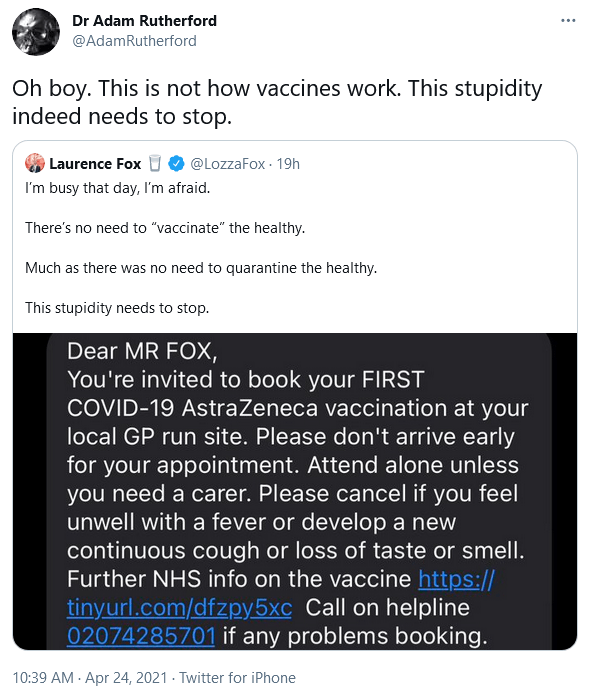 If none of those appealed, Londoners could throw their electoral weight behind climate change denier and 5G conspiracy theorist Piers Corbyn, brother of former Labour leader Jeremy Corbyn. Piers has also been an active critic of coronavirus restrictions, appearing at many of the anti-lockdown rallies that have filled the streets of London over the last year. Corbyn claims to have "showed that wearing masks in public can only have a negative health impact and increase the risk of respiratory illness", and as recently as February was arrested for distributing material in which he compared the use of vaccines to the extermination of Jewish people at Auschwitz.
However, when it comes to London mayoral candidates who have spread misinformation that undermines COVID-19 public health messaging, one candidate cannot be ignored: Brian Rose. Rose is something of a curiosity in the mayoral race, as polls have him at around 2%, but he has been consistently second favourite with the bookmakers for months.
Rose is the host of the prolific London REAL YouTube channel – since 2011, he's posted more than 8,500 videos, many of which are snippets taken from longer interviews in which Rose sits down with a guest. Among the former interviewees are names that would be familiar to readers of The Skeptic, including Noam Chomsky, Steven Pinker, Jon Ronson, and David Nutt. Alongside them, Rose interviews figures such as boxers, wrestlers, MMA fighters, athletes, rappers, comedians, cryptocurrency promoters, financial advisers and, occasionally, women. In over 2000 videos released within the last year, Brian interviews only three women: the actor Priyanka Chopra, psychotherapist Esther Perel, and Brian's grandmother.
Besides his YouTube channel, Rose runs the London REAL Academy – an online learning business offering several self-improvement courses, including his "business accelerator" course for would-be entrepreneurs, and his "broadcast yourself" course to learn how to podcast. While the standard prices for these courses are $3,000, higher tiers like the "Inner Circle" tier cost up to $15,000. The courses have received many negative reviews among the glowing 5 star reviews, and there are dozens of complaints about the courses listed on the website ScamGuard. The Daily Mail's Michael Crick tracked down Rose on the campaign trail last week to put some of those complaints to him, interviewing a former student who alleged that the Inner Circle business accelerator course she and 14 of her fellow classmates paid for included just half an hour of one-to-one time with Brian Rose over 6 months.
While much of the video output from London REAL is uncontroversial, Rose has given air time to pseudoscience and misinformation in his interviews in the past – including interviewing proponents of The Secret, advocates of urine therapy, and men's rights activists. However, in April 2020 Rose sat down with David Icke for a now-infamous discussion in which Icke claimed COVID was caused by 5G, that the government had planned the outbreak, and that vaccines were 'toxic'. The interview amassed tens of thousands of live viewers before being removed from YouTube. When the interview was subsequently broadcast on TV channel London Live, it resulted in an upheld complaint and sanction by broadcasting watchdog Ofcom, which highlighted that not only did Rose offer almost no challenge to Icke's misinformation, but what little challenge he did offer was:
"…minimised by Brian Rose's final comments to David Icke. In particular, after shaking hands Brian Rose said that David Icke had "amazing knowledge and amazing perspectives about what's going on here".
Rather than pay heed to the Ofcom ruling, Rose followed his interview by premiering the an anti-vax propaganda film Plandemic: Indoctornation, and interviewing various prominent anti-vax proponents such as Andrew Wakefield, Alex Jones, Sherri Tenpenny, Robert Kennedy, and Judy Mikovits. The interviews took place on Rose's dedicated free-speech website, "Digital Platform TV", which he claims to have crowdfunded more than one million dollars to build and maintain – a cost that raised questions with some of the campaign's followers.
Earlier this month, body builder and subject of more than 100 London REAL videos Dorian Yates, explained that he pulled out of a live broadcast with Rose after being told he was not allowed to ask Rose about the funding of Digital Freedom Platform, or the complaints from customers of Rose's self-improvement courses. According to Yates, Rose made it clear he was not to mention those topics during their interview, and could only talk about Rose's mayoral campaign and policies. Rather than agree to be censored by Rose, Yates refused to take part.
These various candidates truly demonstrate a breadth of options for voters looking to elect a man who will stand alone (on a ballot with half a dozen similar candidates) against the forces of political correctness, censorship, vaccinations, and public health. Thankfully, there is a vanishingly small chance any of these candidates will enjoy more than a moment in the electoral spotlight, as voting intentions have consistently seen a substantial lead for Sadiq Khan, with a poll from earlier in the month showing that only UKIP's Gammons registers as highly as 1%, while the remainder of the candidates make up 2% collectively.