If you are looking for it, Christmas can certainly provide plenty of opportunities to be skeptical. Be it rampant consumerism, insistence that this is a 'jolly' time of year for everyone, or even the understanding that there are some dangerous psychopaths out there who wait until after the Queen's speech to open their presents.
Arguments could be made that not a single piece of festive tradition hasn't been appropriated, co-opted, bastardised or straight up stolen from a bunch of pagan beliefs. Christmas as we know it is a mishmash of religious land grabs and crafty politics.
Take good old Saint Nick. You may have heard the myth that Coca Cola turned his suit red, or you might know about the various problematic sidekicks he has in other parts of the world (yes Zwarte Piet, I'm talking to you). What you might not know is that the historical basis for the North Pole's most famous resident is a 3rd/4th century bishop from modern day Turkey.
Saint Nicholas of Myra (for it is he) is a busy boy. Apart from inspiring the judgemental global delivery man with an unregulated surveillance system that we know and love, he also has a tidy side-line in patron sainting. Among those under his charge are children (on brand), archers (a bit left field) and repentant thieves (convenient for someone who breaks into homes on the regular).
As with many saints he's also got a few miracles under his belt as well, including the delightful tale of resurrecting three children who had been murdered by a butcher and were about to be offered out as 'pork' (why this wasn't dropped into 'Miracle on 34th Street' I will never know). However, this is where things get a little murky.
Not much is know of the verifiable historical biography of St Nick, but it has been pointed out that some of the stories attached to his name bare striking similarities to those told about Apollonius of Tyana, a first century Greek philosopher and contemporary of the birthday boy Jesus Henry Christ.
It isn't unusual for this sort of reincorporation of pagan stories to be seen in early Christianity, in fact parallels can even be drawn between Apollonius and the story of Jesus's life. As the cult of Christianity was developing, it was vying for followers with many other emerging beliefs. For example, the cult of Mithras was also popular at the time and could be seen as a direct rival to the early Christians.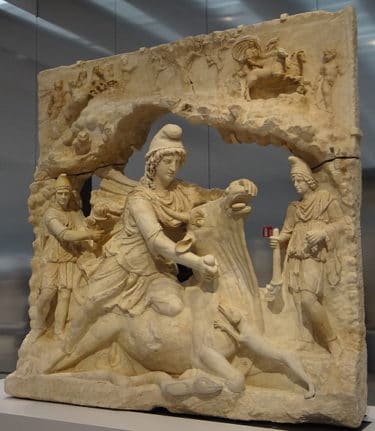 While no one knows exactly what they believed, the surviving iconography would not look out of place on any half decent heavy metal album cover. Slaying bulls, being born out of a rock, lion headed people! It's a shame that Christianity won out and suppressed the worship of Mithras in the 4th century, at the very least the Sistine Chapel would've looked absolutely kickass!
With the context of these competing cults the fact that Christmas is even celebrated on December 25th could be seen as nought but a savvy bit of marketing.
One of the most popular festivals of the Roman empire was the Saturnalia, honouring the god Saturn. As a time of feasting (tick), gift giving (tick), candle lighting (tick) and the occasional morale standard being lowered (tick, tick, tick!) – there are clear influences on the Christian celebration.
It should also come as no surprise that this festival landed in the bleakest part of winter, towards the back end of December. It's almost like humans are predisposed to having a knees-up when they are trying to ignore how cold and wet it is outside. By celebrating Christmas at the same time of year the early Christians may have been hoping to win over new followers through the positive associations with a market leader in good time paganism.
One of the most interesting elements of the Saturnalia was the tradition of slaves being given licences to do and say what they wanted during the festivities as well as having table service provided to them by their masters. While there is no research that backs me up on this, I am convinced that this is the basis for the modern office Christmas party. I can't get beyond the idea of an inebriated Gaulish warrior pigeon-holing a Roman Senator for an hour, ranting about tech issues with the latest abacus before spinning off towards the dance floor because 'this lyre tune is my jam!'.
Like I said, if you were so inclined, there is a lot to be skeptical about when it comes to Christmas… but, personally, this year I won't be looking. Not now I've walked down darkened streets, past hedges and houses covered in lights.
I've wandered by these gaudy oases so many times that they barely register. The same was true this year when I saw the first decorations of the season, in this case a bush covered in multicoloured LEDs. I made an internal note that I'd need to start thinking about buying presents and went to carry on walking.
But this year there is one significant difference in how this scene played out and it took the form of my one-year-old who happened to be sat on my shoulders at the time. There is nothing quite like the sudden and excited head slapping of a toddler to stop you dead in your tracks.
I took him down to see what the matter was and my partner and I were greeted with a face that can only be described as 'Oh I'm sorry guys, are we just going to pretend that this is normal now? The plant is FLASHING COLOURS AT ME!'
That moment and the five minutes that followed where we pointed out all of the colours we could see (a little too loudly apparently as the owner of the house came out to check we weren't unrepentant thieves or archers) made Christmas and all its nonsense untouchable.
For our kid there will be sooty footprints on the carpet on Christmas morning, Rudolph will munch the carrot he leaves out, a jolly fat man from the North Pole will creep into his room and that will be FINE and above all else for a few weeks of the year the bushes of London will sprout lights.
I'll tell him the other stuff one day, but right now, all the magic is real.
Merry Christmas everyone