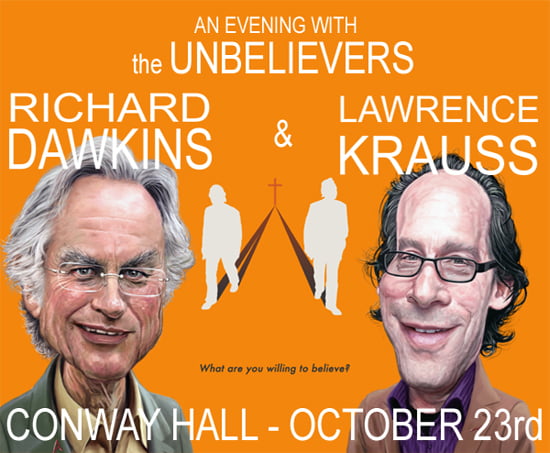 The Skeptic Mgazine presents Richard Dawkins and Lawrence Krauss live at Conway Hall, to discuss their recent documentary and the state of science and reason in modern times.
The Unbelievers documentary follows Richard Dawkins and Lawrence Krauss as they speak publicly around the world. It includes interviews with Stephen Hawking, Ayaan Hirsi Ali, Sam Harris, Cameron Diaz, Woody Allen and many others.
Watch the documentary, then join the Q & A with Dawkins and Krauss at the event. If you want to take the DVD home, it'll be available to buy and get signed.
6-6.30 Drinks available
6.30 Documentary starts
7.45 – 8.15 Interval
8.15-9.15 Q & A with Prof. Richard Dawkins and Prof. Lawrence Krauss
9.15-10 DVD signing
Limited tickets available, so hurry to buy