Libel reform: Parliamentary discussion
Deborah Hyde reports from Parliament on libel law: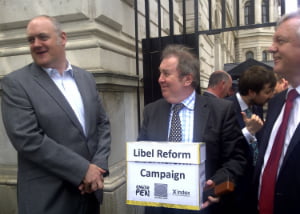 Today at Parliament, Dara Ó Briain, Professor Brian Cox and comedian Dave Gorman joined Dr. Evan Harris, Simon Hughes MP and David Davis MP in an event designed to bring attention to the shortcoming of the proposed new Libel Bill currently going through Parliament.
The Libel Reform Campaign – Index on Censorship, English PEN and Sense About Science – point out that there is still no good public interest defence, and that there will still be no restriction on corporations to bring proceedings. This means, in effect, that there will still be a huge chilling effect in relation to science issues.
Libel victims Simon Singh, Peter Wilmshurst and Ben Goldacre spoke, and there were also contributions from Nature, Which? and Mumsnet. The details of this bill will be established over the summer, and pressure from backbench MPs does make a difference.
Visit this page at Sense About Science for more details, and write to your MP.