2017's Ockham Awards for Excellence in Skeptical Activism
On Saturday 14th October, the 2017 Ockham Awards were presented at QEDcon in Manchester. The winners were Crispian Jago: Always Look on the Bright Side of Death in the blog category,  The European Skeptics Podcast in the podcast category, Edinburgh Skeptics: Skeptics on the Fringe in the Event/Campaign category and Edzard Ernst in the Editors' Choice category.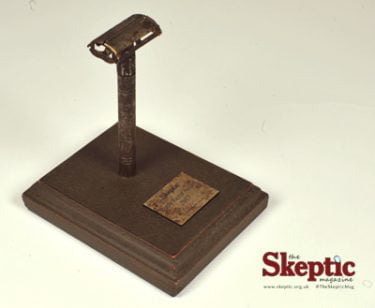 The Rusty Razor
This year saw the debut of a new category – The Rusty Razor, for the most audacious pseudo-science. This award was decided by our readers' votes, and the winner (by a landslide) was Goop, the lifestyle brand championed by actress Gwyneth Paltrow.
The Short-Listers for 2017 were:

BLOGS
Edzard Ernst
Friendly Atheist
Crispian Jago: always look on the bright side of death
Science Based Medicine
PODCASTS
Prism Podcast
The Parapod
The European Skeptics Podcast
Skeptics with a K
EVENTS & CAMPAIGNS
Guerilla Skepticism on Wikipedia
The Good Thinking Society
Sense About Science
Edinburgh Skeptics: Skeptics on the Fringe