Dr Matthew Smith at Skeptics in the Pub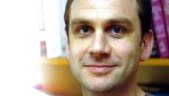 Listen/Download [mp3 32MB]
This is the presentation given by Dr Matthew Smith at London Skeptics in the Pub on 19/02/2008. Details of Dr Smith's talk are below.

What do the Loch Ness Monster, Noel Edmonds, magic-eye pictures, butterflies, forgiveness, and the number 42 all have in common? Could it be they all have something to do with the meaning of life? Or are they simply the not so random thoughts of a man going through a mid-life crisis? Join psychologist Matthew Smith on his search for spiritual enlightenment and the meaning of life. (Although my money is on the mid-life crisis…)

Dr Matthew Smith joined Liverpool Hope University in 1999 and has recently conducted research on replication issues in parapsychology and psychological variables associated with paranormal belief. Dr Smith was awarded his PhD on the psychology and parapsychology of luck from the University of Hertfordshire in 1998 under the guidance of Prof. Richard Wiseman. Matthew was awarded the Gertrude Schmeidler Award for an Outstanding Contribution to Parapsychology by the Parapsychological Association. Dr Smith's current research, funded by the Bial Foundation, is examining the role of experimenter variables in ganzfeld-ESP research. Matthew has also received funding from the Perrott-Warrick Fund, the Parapsychology Foundation, and the Society for Psychical Research. Matthew has made several television appearances as a Resident Parapsychologist for Living TV's Most Haunted.