The Skeptic Book Contest – Hair of the Dog and Other Scientific Surprises
Karl Sabbagh's 'The Hair of the Dog and Other Scientific Surprises' is a collection of quirky scientific knowledge that will definitely make you the [scientific] life of the next party you're at.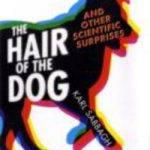 Science is full of surprises: the peculiar peepshow beginnings of baby incubators; the unexpected positive fallout from the H-bomb; the dinosaurs that caused sonic booms; the irrational nature of the number pi; the fifth taste sensation lurking in everyone's taste buds which nobody knew about (except for the Japanese).Whilst shedding light on these conundrums, Karl Sabbagh shows that seemingly trivial queries or assumptions lead to a deeper understanding of how science works. Who would have thought that scientists would turn to the hypothesis 'All swans are white' to determine the stability of the entire universe? Or that if we choose to spend our hard-earned money on other people it might make us happier than if we spend it on ourselves?
If you've ever been amazed by what scientific discovery has shown us about the world (like why the hair of the dog really works!), you could win a signed copy of this book from Karl Sabbagh and The Skeptic. To enter, simply tell us your favourite 'Scientific Surprise' in the comment section below or email competition[at]skeptic.org.uk.
There's no right answer for this one, just awesome science.  The contest closes Friday the 18th at 5pm GMT.