The Impostor: BHL in Wonderland – Jade Lindgaard and Xavier de la Porte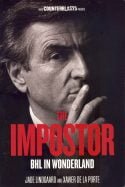 Counterblasts, Verso Books, ISBN 978-1-84467-748-1
Donning rubber gloves and waders, two French journalists help each other stay upright as they sift through the verbiage and media shenanigans of France's most famous contemporary intellectual. Bernard-Henri Lévy, or BHL, as he is known and branded, is a rare mammal indeed.
BHL is the best-known philosopher, with the least-known philosophy, who has been making waves in French media, and in his own coiffure, since the late 1970s. With his signature wide-open white shirt, dark jacket and perma-tan, BHL bestrides the cultural scene, advising presidents, chastising totalitarians, churning out newspaper articles, books and moral stances from the Left Bank to Libya.
BHL is also the favourite target of Belgian activist Noël Godin, a shadowy figure also known as Georges le Gloupier. Lévy has heard, many times, the spine-chilling incantation "Gloup! Gloup! Gloup!", as a well-aimed custard pie hits him squarely in the face just before an important speech to the nation.
Is this the proper way to treat an eminent public speaker? Is this how a politically committed moral philosophy should be answered? Judging by BHL's violent rage on these cream-spattered occasions, and his blithe indifference to more conventional textual criticism, it may be argued that this is the only appropriate method.
At the heart of this big-hearted moralist's global philosophy, the authors suggest, is a gaping void, industriously stuffed with recycled oddments taken from its own ever-expanding surface. BHL's expertise lies, not in philosophy as such, but in the well-financed, smartly-networked enterprises of self-mythification.
The robustness of this profile management has even survived a spectacular philosophical blunder, when BHL decided he really ought to get round to explaining his own special approach to philosophy in a new book. The sage had always taken self-quotation to new levels, apart from classical name-dropping (Plato, Kant et al.), but he ventured to make reference to more recent thinkers in this new work, and invoked an intimidatingly obscure philosopher, Jean-Baptiste Botul.
This philosopher had become fairly well known to certain Parisian journalists and readers over the preceding decade, having been invented by a satirical journalist in 1999. No prizes for figuring out the name of Botul's school of thought.
Lindgaard and de la Porte's research will fascinate Francophiles and philosophy fanciers, but should interest anyone concerned with how ideas and ideologies succeed in the arenas of contemporary media.
Bernard-Henri Lévy has 11,459 followers on Facebook, as a "local business".
Paul Taylor