Submit content / news
For the printed magazine:
This email address is being protected from spambots. You need JavaScript enabled to view it. .
For the website or news columns:
This email address is being protected from spambots. You need JavaScript enabled to view it. .
Read the submission guidelines.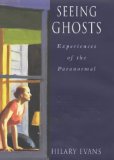 Seeing Ghosts: Experiences of the Paranormal
by Hilary Evans
John Murray, £19.99, ISBN 0-7195-5492 6
Hilary Evans is well known to readers of The Skeptic for the Fortean illustration he supplies each month. As the commentaries indicate, he has a scholarly but light style, and both those qualities are manifested in his latest book.
In it he conducts a thorough analysis of the evidence for ghosts, based on almost two hundred cases drawn primarily from the archives of The Society for Psychical Research and the American magazine Fate.
This gives him a large database, though relying so heavily on the Fate material does raise concerns about quality control, as readers' reports to that journal are not investigated. While the discussion is fascinating, there are problems.
Many of the phenomena posited as aspects of seeing ghosts, such as "super-psi" – the limitless ability of the mind to obtain information paranormally – and the "extended self ", able to exist independently of the physical body and survive death, are too readily accepted as possible mechanisms for ghost cognition. Concepts introduced tentatively gain strength as the argument proceeds, so that by the time the summary is reached they have assumed a high degree of probability.
It is acknowledged that witnesses lie or embellish, yet cases are still taken at face value. Most significantly there is little allowance for the ways in which memory is reconstructive, with honest witnesses smoothing over ambiguous experiences to produce a rounded narrative that, while it may seem authoritative, is far more coherent than the incident that initiated it. In sum, this is a thoughtful attempt to tackle a complex area, but is far from the final word.
The strangest thing in the book must be the illustration from The Strand used to illustrate the appearance of a librarian's ghost to his successor, as it is not clear why the latter should be holding a gun. Clearly librarianship, at least in Yorkshire, has changed a great deal since the 1890s.