Submit content / news
For the printed magazine:
This email address is being protected from spambots. You need JavaScript enabled to view it. .
For the website or news columns:
This email address is being protected from spambots. You need JavaScript enabled to view it. .
Read the submission guidelines.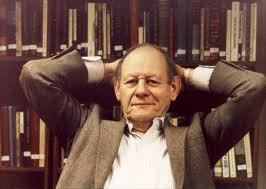 The following article is a press release from Prometheus Books, of which Kurtz was founder. Are more personal article was published by Kurtz' former colleague , R Joseph Hoffman, on his blog. The photograph of Kurtz has also been reproduced from Hoffman's blog.


Paul Kurtz, philosopher, prolific author, publisher, and founder of several secular humanist institutions as well as the for-profit independent press Prometheus Books, died on Saturday, October 20, 2012 at his home in Amherst, New York. He was 86.

Professor Kurtz was widely heralded as the "father of secular humanism." With his fifty plus books (many translated into foreign languages around the world), multitudinous media appearances and public lectures, and other vast and seminal accomplishments in the organized skeptic and humanist movements, he was certainly the most important secular voice of the second part of the 20th century. He was an ardent advocate for the secular and scientific worldview and a caring, ethical humanism as a key to the good life. 
Read more: Paul Kurtz, Father of Secular Humanism, dies aged 86
As of 10:23am on 20/09/2012, QED tickets are available to purchase. The next QED takes place on April 13th-14th 2013 and weekend tickets cost just £99, with a new, lower, concession rate of £59 for full-time students (with any recognised student ID).
Flying over from the US to take to the mic as the MC for 2013 will be comedy podcaster and JREF field coordinator Brian Thompson. Brian will be residing over an extensive, exciting and all-round excellent line-up of speakers, including:
Stevyn Colgan
Richard Dawkins
Rachael Dunlop
Ben Goldacre
Natalie Haynes
Mark Lynas
Brooke Magnanti
Rose Shapiro
For more details and to book tickets, visit QED.
Deborah Hyde reports from Parliament on libel law: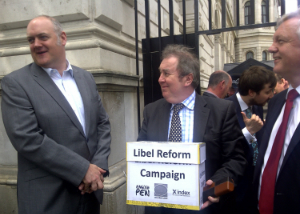 Today at Parliament, Dara Ó Briain, Professor Brian Cox and comedian Dave Gorman joined Dr. Evan Harris, Simon Hughes MP and David Davis MP in an event designed to bring attention to the shortcoming of the proposed new Libel Bill currently going through Parliament.
The Libel Reform Campaign - Index on Censorship, English PEN and Sense About Science - point out that there is still no good public interest defence, and that there will still be no restriction on corporations to bring proceedings. This means, in effect, that there will still be a huge chilling effect in relation to science issues.
Libel victims Simon Singh, Peter Wilmshurst and Ben Goldacre spoke, and there were also contributions from Nature, Which? and Mumsnet. The details of this bill will be established over the summer, and pressure from backbench MPs does make a difference.
Visit this page at Sense About Science for more details, and write to your MP.
Edinburgh Skeptics are back with a bang! It's their third year at the Free Fringe taking a skeptical look at the end of the world, with talks from some of the best names in logic, science and reasoning. Sex, zombies, ghosts, werewolves and cults all feature alongside a critical look at many other topics in the biggest Skeptics on the Fringe yet!
After a successful year of events and talks and having their Free Fringe event nominated for an Ockham award in Events/Outreach at the annual QED Conference held by The Skeptic Magazine (UK) and presented by Richard Wiseman, the Edinburgh Skeptics are gearing up for the Free Fringe: Fringe of Reason and are thrilled to present a host of excellent new speakers and familiar faces in the heart of the city at three excellent venues: The Banshee Labyrinth, The Jam House and The Southern Bar.       
At the Fringe of Reason
At the Fringe of reason is our flagship event. Running for three weeks over the course of August, Skeptics on the Fringe presents almost two years' worth of Skeptics in the Pub style events as part of the Edinburgh Fringe Festival. Featuring speakers from the world of science, performance, scepticism and academia and again being held in Scotland's allegedly "Most Haunted" pub, the Banshee Labyrinth (Venue 156) and the less haunted but no less special Jam House (Venue 44) for four flagship events beyond the fringe of reason and lessons in how to be a psychic from Ash Pryce at The Southsider (venue 148). Speakers this year include Professor Richard Wiseman, AC Grayling , Brooke magnanti (Author of the Sex Myth also known as sex blogger Belle Du Jour), Deborah Hyde (Editor of the Skeptic magazine) and many more.
The full schedule can be found from the SotF section of the Edinburgh Skeptics website.