Submit content / news
For the printed magazine:
This email address is being protected from spambots. You need JavaScript enabled to view it. .
For the website or news columns:
This email address is being protected from spambots. You need JavaScript enabled to view it. .
Read the submission guidelines.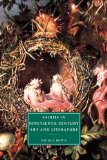 Fairies in Nineteenth-century Art and Literature (Cambridge Studies in Nineteenth-century Literature & Culture)
by Nicola Bown
Cambridge University Press, £40, ISBN 0521793157
Victorians were fascinated by fairies. Ariel, Puck, Oberon and Titania were the subject of countless paintings. But Victorian fairies were not the twee little beings that we see nowadays on greetings cards and "Flower Fairies" books. These were something altogether more sinister.
Victorian painters such as Richard Dadd and John Anster Fitzgerald painted Bosch-like fantasies of grotesque creatures engaged in bizarre activities which verge on the surreal. But why were the Victorians so interested in these strange, mythical beings? Nicola Bown argues that it was an expression of nostalgia for a vanished rural past – "the industrial revolution killed the fairies". From the onset of Darwinism to the notorious case of the Cottingley Fairies, belief in fairies gradually declined. Bown explores various artistic and literary manifestations of this decaying belief. I was particularly intrigued by her discussion of Darwinism in relation to Dadd's "The Fairy-Feller's Master Stroke" – a painting which most of us only know via the Queen song of that title.
It is a shame that Bown does not reproduce more of the paintings, though presumably this would have made the cost of the book prohibitive. It is best read alongside the lavishly illustrated catalogue of the Royal Academy's 1997 "Victorian Fairy Painting" exhibition.
The book offers a fascinating insight into the Victorian psyche. But were the Victorians so different from us? Was nineteenth-century belief in fairies so very different from modern beliefs in crop circles, alien abduction and supernatural spoon-bending? Maybe we can't really count ourselves superior.
A User's Guide to the Brain
by John Ratey
Little, Brown, £12.99, ISBN 0316854069
The author of this 400+ pages book is clinical professor at Harvard Medical School. He presents an extensive review of the present knowledge of the working of the human brain. The subject is very complex, and the amount of information supplied is immense, but the author really has made an effort to make it very digestible, much more than most other books on this subject, by very richly documenting it with case stories of patients.
Short chapters on specific aspects of the working of the brain are coupled with neurological and psychological functions and pathology such as: perception, autism, tinnitus, learning difficulties, attention disorders, emotion, tics, compulsive obsessive disorders, memory and also love. Many of those functions are made more understandable by using metaphors and very often some very good advice is given to understand, overcome or prevent some disorders. All this with a lot of warm humanity and common sense.
He takes very firm stands against the Freudian school and the recovered memory crowd and definitely is not an adherent of the mind-body dualism theory and documents these views very well. The new fad of overrating the EQ (emotional intelligence) is also brought to more discreet proportions. His analysis of the "social brain" and the use of this concept in therapy is admirable. His therapeutic approach also has the merit of taking away much of the guilt that other therapeutic systems sometimes induce.
For the health professional, for whom it is intended, this book does not provide many ready made answers but it certainly has the merit of making one think and reconsider some therapeutic approaches. A small draw back for those who would like to deepen the subject is that all references are not to articles in journals but to other books.
For the layperson it will be tough but very instructive reading, or rather study, but the determined ones will enjoy it.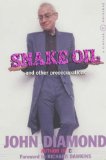 Snake Oil and Other Preoccupations
by John Diamond
Vintage, £7.99, ISBN 0099428334
Because the medium through which most people knew John Diamond was his Times column, in which he could pick and choose the facts around which he built his witty and sometimes scathing opinions, it's easy to forget that first he was a journalist. The surprise in Snake Oil, his unfinished "uncomplimentary look at the world of alternative medicine" is the extent to which he knew the subject (he also had an excellent researcher).
It's not just that once he made public his cancer diagnosis thousands of people wrote to him recommending he try this and that cure. He'd already spent years researching articles on the subject for a wide variety of publications. Certainly, the years he spent in treatment for his cancer gave him a thorough understanding of how the medical establishment and the human body work, if he didn't already have those.
The unfinished book is polemical, well-reasoned, and entertaining ("Look," he writes, "at any advert for those cosmetics which claim to rid the body of 'toxins' and you'll understand what the popular understanding of the function of the kidneys is."). But it is unfinished – and hard to tell how he'd have been able to weave
together the disparate strands of his discussion. To fill out the rest of the book, the editor (brotherin-law Dominic Lawson) selected a representative sampling of Diamond's popular journalism. Many are from his Times column; others are from publications such as the Jewish Chronicle, and the Spectator, and cover the range, from the physics "experiments" conducted by his baby daughter to Nostradamus' prophesies. All in all, worth reading, though in the rush to publication it's a great shame they didn't include an index. Also sadly missing is any sample of his online postings, which were some of his best writing.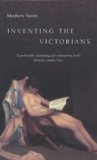 Inventing the Victorians
by Matthew Sweet
Faber and Faber, £16.99, ISBN 0571206581
Opium, sex crime and serial killers aren't usually the first things that spring to mind when anyone mentions Victorian values. But Matthew Sweet's book argues that the Victorians may not have been as straight-laced as we'd like to think.
Sweet takes a skeptical look at our ideas about the Victorians, and reveals the truth behind the myths. Victorians did not drape piano legs in chintz to save their modesty, nor were Victorian ladies advised to "lie back and think of England".
Even their restrictive rules of etiquette make sense once you know the reasons behind them. Victorian readers enjoyed reading about the exploits of serial killers, and best-selling sensational novels of the time featured bigamous, murderous heroines who would not be out of place in a modern thriller. Victorians invented the mass-production of pornography and enjoyed freak shows, whose star performers earned a fortune even by modern standards. Sweet aims to rescue the Victorians from "the enormous condescension of posterity." Unlike many academic books, this is immensely readable and vastly entertaining. Even his most controversial statements are backed up by an impressive amount of facts, and I can't fault his extensive research.
This fascinating and thought-provoking book is well worth reading. Who would have thought the Victorians had so much fun? As Sweet comments, "If Queen Victoria wasn't amused, then she was in a very small minority."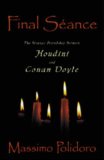 Final Seance: The Strange Friendship Between Houdini and Conan Doyle
by Massimo Polidoro
Prometheus Books, £21.99, ISBN 1573928968
In 1932 Ernst and Carrington wrote Houdini and Conan Doyle, a fascinating account of the relationship between Houdini, the famous magician and investigator of psychic fraud, and Sir Arthur Conan Doyle, an educated medical doctor famed for his Sherlock Holmes books, but also a renowned proponent of Spiritualism. In Final Séance Massimo Polidoro becomes our tour guide, embellishing and updating Ernst and Carrington's subject matter with extensive research. Beginning with the mutual interest in the Davenports in 1920, possibly their first meeting, then giving us a florid whirlwind chronological tour of investigations.
These investigations, and especially the subsequent comments by Doyle, are related with a waggish smile from Polidoro. Despite this there is utmost respect for their obsessional hunt for truth. Massimo's mammoth tour of mediums investigated by the two central figures takes us through Eva C., Nino Pecoraro, Ada Besinnet, Margery Crandon, and George Valiantine with many more gracing these fascinating pages. Correspondence between Houdini and Doyle provides an intriguing insight into a friendship that has as its battleground one of the most interesting periods in the history of psychical research.
Frequently we see Doyle attempting to gloss over Houdini's reputation, somewhat of a hindrance, in an effort to have him sit in on séances. Conversely, we are given eyewitness accounts of Houdini's replications of mediumistic phenomena and his attempts to convince Doyle not to turn to a paranormal explanation so facilely. The "Final Séance" that the book title refers to occurs in Atlantic City where, even now, fortune-tellers and parlour-room psychics ply their trade. It is this simple séance that holds the key to the friendship's demise, and one can almost feel the frustration with which Houdini tries to deny his own apparent psychic ability that Doyle so readily insists he has. Polidoro's tour of this unique duo with their common Spiritualism interest forging a friendship that moulded psychical history books, provides us with delightfully written snapshots – perfect for showing the guests at your next circle!