Submit content / news
For the printed magazine:

This email address is being protected from spambots. You need JavaScript enabled to view it.
.
For the website or news columns:
This email address is being protected from spambots. You need JavaScript enabled to view it.
.
Read the
submission guidelines
.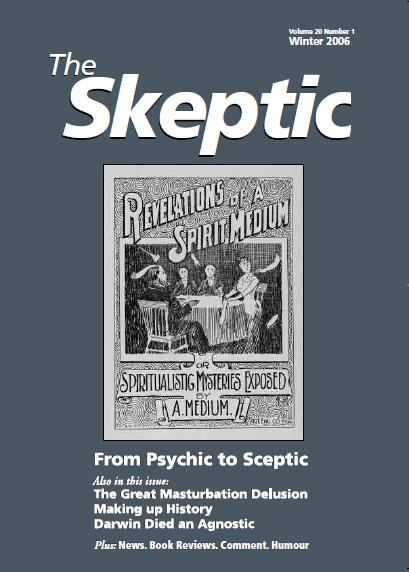 Features

From Psychic to Sceptic
James Byrne in retrospect on being a psychic
The Great Masturbation Delusion
A bout of moral alarm in the educated? Hilary Evans considers another example where the scientific evidence is absent

Making up History
Steuart Campbell questions how we are to know historical fact from fiction
when delivered to us in novels

Darwin Died an Agnostic
Donald Rooum investigates the claim by one of the world's most distinguished philosophers that Darwin experienced a deathbed conversion

Features

The Evolution Controversy
Nell Barrie reflects upon the controversy that just will not go away…
An Open Letter to the Public about Young Earth Creationism
Julian W. Kirchherr, a German exchange student in the USA, battles the ideology of Young Earth Creationism
Do 17 percent of people in Britain
really believe in "intelligent design"?
Adam Buick is doubtful that Britons had a fair chance to respond to the BBC's questions on the origins of life

Features
Psychics on eBay
Emma-Louise Rhodes purchases tarot readings, all in the name of journalism
Haunting the Bereaved
Mark Williams reflects on the 'psychic' offerings of Colin Fry as presented in his TV show, 6ixth Sense
R. E. Ality Check: An Alternative Approach to Religious Education Damien Morris shows us one way to encourage enthusiasm and critical thought in classrooms
Features

Exposing the Myth of Alcoholics Anonymous. Part 1: History and (Lack of ) Effectiveness
Steven Mohr begins his two-part investigation by examining the origins of the movement and evidence that the famous 12-step programme simply does not work
Believe it or Not
Sally Marlow interviews Mark Vernon about life, the universe and everything – but mainly agnosticism
Inside a Camphill Community
Matthew Provonsha reports on his disillusionment with life in a religious commune