Submit content / news
For the printed magazine:
This email address is being protected from spambots. You need JavaScript enabled to view it. .
For the website or news columns:
This email address is being protected from spambots. You need JavaScript enabled to view it. .
Read the submission guidelines.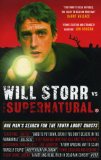 Will Storr Vs. the Supernatural: One Man's Search for the Truth About Ghosts

by Will Storr
Random House, £10.99 (pbk), ISBN 0091901731
Storr declares himself a "proud hard rationalist", yet he worries about the point of a life spent acquiring knowledge and experience that are "wasted" if death is the end: "Why would nature do that to itself?" This shaky grasp of natural selection sets him on his quest to investigate ghosts. At first, he wavers back and forth between belief and scepticism depending on who he has just talked to – a philosopher, a psychiatrist, people involved in the Enfield poltergeist case, some colourful ghost-hunters, among others. He learns about EVP, Stone Tape Theory, astral planes, orbs, ouija boards, different types of hauntings and quantum theory. He discovers factions, rivalries and elitism among investigators. A trip to the set of Most Haunted leaves him in no doubt about Derek Acorah's 'ability'.
Some of his encounters are entertaining, especially with the stranger ghost-hunters and dubious mediums; some are disturbing, like the 'possession' of the autistic boy. His scepticism is short-lived. After visiting a Vatican exorcist and spending the night in a haunted house, he becomes convinced the afterlife is real. He does remain sceptical about the existence of God and the motives of some ghost-hunters, though.
Faith, he declares, is for the frightened. He doesn't need faith because he has the evidence of his own experience. Sceptics get short shrift: "To believe passionately in the existence of nothing that isn't immediately obvious is to suffer the most gigantic failure of intelligence and imagination". He concludes: "I am convinced that one of the frontier sciences will eventually solve ghosts. And most likely it will be quantum science", but all the evidence he presents is anecdotal rather than scientific.
Storr sets out to find some purpose to life and finds an answer that suits him. Some would see this as confirmation bias. And even if existence does continue, what is the 'point' or 'purpose' of the afterlife? The book is often clumsily written; the Prologue first appeared in Loaded magazine, which is perhaps some indicator of its quality.
Tessa Kendall