Submit content / news
For the printed magazine:

This email address is being protected from spambots. You need JavaScript enabled to view it.
.
For the website or news columns:
This email address is being protected from spambots. You need JavaScript enabled to view it.
.
Read the
submission guidelines
.
Features

The Angels of Mons and Elsewhere; Part One: The Bowmen and Other Legends
Scott Wood begins his two-part assessment on the fabled Angels of Mons by unearthing their origins
An anaesthesiologist examines the Pam Reynolds story; Part 1: Background considerations
In his two-part analysis of Pam Reynold's near-death experience, Gerry Woerlee considers the evidence for the paranormal

In Search of ET
Dene Bebbington asks whether the search for life on other planets is likely to be successful

Overcooked
Martin Parkinson gives a curious example of something sensible deliberately dressed up to look like nonsense
Features

Why Creation Science Must be Taught in Schools
Tom Stafford and Andrew Brown argue that the best way to convey the nature of science is to produce examples of what it is not.

An Anaesthesiologist Examines the Pam Reynolds Story; Part 2: The Experience
Gerry Woerlee suggests a very non-paranormal explanation for near-death experiences on the operating table
The Angels of Mons and Elsewhere; Part Two: Even More Tales of Supernatural Rescue
Scott Wood completes his assessment of the 'making of myths'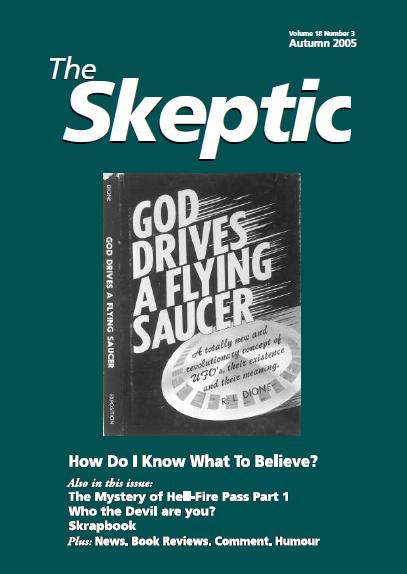 Features

How Do I Know What To Believe?
It's not as easy as sceptical authors sometimes seem to imply. Martin Parkinson draws a quick sketch map of the difficulties of real-world reasoning
The Mystery of Hellfire Pass: Part One
Paul Chambers and Robert Bartholomew investigate the Phantom Sniper of Esher
Who The Devil Are You?
Ben Fridja exposes the truth about Anton LaVey, the High Priest of the Church of Satan
Skrapbook
A sneak peak into David Langford's unique archive of sceptical scraps …
Features

Alien abduction or Bad Medicine?
Jamie McCartney gives us his suggestions on the 'reality' behind alien abductions
The Mystery of Hellfire Pass: Part Two
Paul Chambers and Robert Bartholomew consider some theories as to the 'sniper's' identity

The Problem of the Existence of God seen through the Eyes of a Physicist by Alfred Bahr