Submit content / news
For the printed magazine:
This email address is being protected from spambots. You need JavaScript enabled to view it. .
For the website or news columns:
This email address is being protected from spambots. You need JavaScript enabled to view it. .
Read the submission guidelines.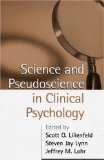 Science and Pseudoscience in Clinical Psychology
by Scott O. Lilienfeld, Steven Jay Lynn, Jeffrey M. Lohr (Editors)
Guilford Press, 2003, £31.95, ISBN 1572308281
This is a US product, so "clinical psychology" covers all kinds of psychotherapy. It is a round-up of recent research on speculative conditions and controversial treatments, and even clinicians' ability to learn from experience (they're not very good at it).
Some of the research may be familiar, but it is good to have it all in one place. And it can't be repeated too often that Americans don't spontaneously claim to be 127 different people, or to have been abused by Satanists or abducted by aliens. These ideas arise in therapy after months, sometimes years, of hypnosis, suggestion and leading questions. One vulnerable client produced 4,500 alter egos; others claimed to share their skull with "Mr Spock, Teenage Mutant Ninja Turtles, lobsters, chickens, gorillas, tigers, unicorns, God, the bride of Satan, and the rock star Madonna."
So much for dodgy diagnoses; wait till we get to the New Age therapies. The list of unsupported assumptions behind these includes extraterrestrials, magic and past lives, but also dogmas beloved of North London media folk such as "abuse experienced in early childhood is the root cause of all psychological and emotional problems", "catharsis brings cure" and "the treatment technique does all the 'hard work' . . . change occurs 'naturally' . . . "
Now we come to controversial treatments for accepted conditions such as post-traumatic stress disorder. Among others the authors compare EMDR (Eye Movement Desensitization and Reprocessing – you follow the therapist's wagging finger with your eyes) and Critical Incident Stress Debriefing (group counselling soon after a traumatic event). Common sense suggests that EMDR is unlikely to be effective, and it isn't – but neither is debriefing.
By this time the reader should be getting the message that common sense can't be relied on, that all psychologists should be educated in research methods, and that all treatments should be examined. This is a fascinating read, a reminder that America is the land of snake oil salesmen and that reasonable theories believed by all right-thinking people may be snake oil too.
Lucy Fisher