Submit content / news
For the printed magazine:
This email address is being protected from spambots. You need JavaScript enabled to view it. .
For the website or news columns:
This email address is being protected from spambots. You need JavaScript enabled to view it. .
Read the submission guidelines.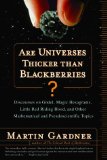 Are Universes Thicker Than Blackberries?: Discourses on Godel, Magic Hexagrams, Little Red Riding Hood, and Other Mathematical and Pseudoscientific Topics
By Martin Gardner
W. W. Norton & Company, $25.95, ISBN 0-393-05742-9
Some of us cut our sceptics' teeth on Martin Gardner's Facts and Fallacies in the Name of Science. Originally published some fifty years ago, it was a review of pseudoscience in all its many varieties, glories and irrationalities.
Now, some 65 to 75 books later, we have another collection of amusing and insightful short essays by the same author. Like several earlier volumes it is a collection of articles Gardner published in the American The Skeptical Inquirer, of book reviews and other essays from hither and yon.
The subtitle provides a good view of the wide variety of topics taken up by the author. The 31 pieces are divided into sections on Science, Mathematics, Religion, Literature, and Moonshine. The author himself admits "the categories ... are somewhat arbitrary." (p. xi) To call the book a miscellaneous collection is not to belittle it. Where else could you learn about a religion, Oahspe, which lasted from 1882 until 1918, and was part of the extensive spiritualist movement? The title story, located in the science section, examines the multiverse idea. A new universe comes into existence every time a quantum uncertainty is solved. Schrödinger's Cat both lives and dies, each in a new universe. Which means there exists a practical infinity of very similar worlds. Gardner makes it clear he cannot for a moment believe this cosmology, and marvels "at the low state to which today's philosophy of science has fallen" (p. 9). At the other extreme, under Moonshine, the author disposes of the farce of "Facilitated Communication," "Distant Healing," "Therapeutic Touch," "Primal Scream Therapy," and other humbug. The book is a fun read that will fill a long evening.
Wolf Roder