Submit content / news
For the printed magazine:
This email address is being protected from spambots. You need JavaScript enabled to view it. .
For the website or news columns:
This email address is being protected from spambots. You need JavaScript enabled to view it. .
Read the submission guidelines.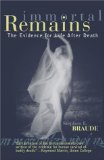 Immortal Remains: The Evidence for Life After Death
By Stephen E Braude
Rowman & Littlefield, 2003, [no price indicated] ISBN 0-7425-1472-2
"Rascals! Would you live for ever?", Frederick the Great reproached his dilatory guards. No doubt all readers of The Skeptic look forward cheerfully to post mortem oblivion, but in case some of you conserve some atavistic doubts as to whether that is your destiny, here is Stephen Braude offering an alternative scenario. It is not necessarily a convincing one. Even though he has chosen to present only a handful of the most challenging cases, each is ambiguous in its conclusions. Even when the apparition of a deceased accountant returns to his son and reveals the error which clouded his reputation, this could be explained by psi, or super-psi, or something which, however improbable, at least allows us to duck out of accepting survival as the only way it could have happened.
Braude is at least as skeptical as any of his readers is likely to be. He allows himself to be persuaded by the evidence only when he has analysed it in detail – often mind-numbing detail. Though he writes clearly and directly, his book is heavy going simply because he invites you to accompany him, step by careful step, through the complexities of cases where nothing need be what it seems to be and no-one's word can be trusted.
I doubt if it could be done better. He knows about mediumship, he knows about reincarnation, he knows about possession and dissociation, and he knows that all these subject areas are minefields for the unwary. But he knows, too, that they may also be gold fields, rich in information about ourselves, the way our minds work. And – who knows ? – whether you and I will live for ever.
Hilary Evans