Submit content / news
For the printed magazine:

This email address is being protected from spambots. You need JavaScript enabled to view it.
.
For the website or news columns:
This email address is being protected from spambots. You need JavaScript enabled to view it.
.
Read the
submission guidelines
.
Features

Death and the Microtubules
Susan Blackmore shows that even experienced interviewees can be hoodwinked
The Mosaic of Memory
Chris French considers the nature of memory
From Medicine To Miracle
Peter May questions the remarkable healing of Dr Mary Self
Features

The Truth about Rendlesham
James Easton presents the first of a series of articles on Britain's most notorious UFO case
Britain's Roswell?
Would the release of official documents relating to the Rendlesham Forest incident reveal that a UFO really landed?
Dr David Clarke investigates.
The Rendlesham Incident: Some lessons for UFOlogy
Jenny Randles describes her own long involvement with the case and considers its implications for UFOlogy in general
Forgive Us Our Trespasses
Peter Brookesmith considers the diplomatic aspects of the Rendlesham 'cover-up'
Reflections on a Rendlesham Skywatch
Andy Marriott offers us his whimsical recollections of a beautiful night spent in Rendlesham Forest in August 2003 on a UFO-watch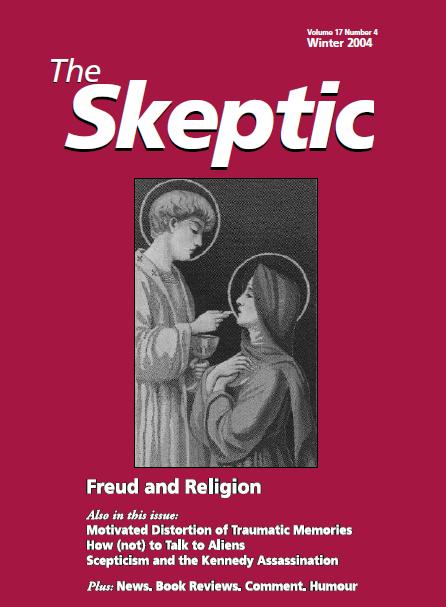 Features

Psychoanalysing God: Freud on Religion
Ian Fairholm discusses Freud, neuroticism and religion

Motivated Distortion of Personal Memory for Trauma
At the Remembering Trauma Conference held in London in September 2003, Mark Pendergrast described how people can develop false memories for terrible events
How (not) to talk to aliens
Mark Newbrook ponders the complexities of extraterrestrial languages
Scepticism and the Kennedy Assassination
Jeremy Bojczuk disposes of some of the more ludicrous theories surrounding President Kennedy's assassination