Submit content / news
For the printed magazine:
This email address is being protected from spambots. You need JavaScript enabled to view it. .
For the website or news columns:
This email address is being protected from spambots. You need JavaScript enabled to view it. .
Read the submission guidelines.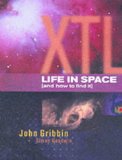 XTL: Life in Space and How to Find It
by Simon Goodwin and John Gribbin
Weidenfeld and Nicholson, £12.99, ISBN 1-84188-193-7
The authors of this book are both astronomers and are therefore more interested in how and where life-supporting planets might be found in our galaxy, than in what form that life might take. This enables them to avoid the difficult question of how we would decide whether apparently organic structures which were completely new to us were, in fact, "living". That aside, this is a clearly written and well-illustrated introduction to the search for extraterrestrial intelligence (SETI). There is a minimum of mathematics, but we are given the Drake equation, which enables anyone to make their own estimate of the probability that there are habitable and inhabited planets out there. Readers without some basic knowledge of physics might find the going hard here and there.
Goodwin and Gribbin start with some well-established assumptions (from as far back as the ancient Greeks): that there is nothing special about our solar system, that planetary systems like ours are common throughout the Galaxy and that life in some form exists on a large number of planets orbiting other stars. They also, however, mention Fermi's Paradox – if there are other advanced civilizations, why have they not already visited us, or made their presence known? – and they try to resolve it.
For this reader, the best part of the book is the final section, "Searching for Civilizations," which deals with existing and future SETI projects, using radio telescopes and long distance probes such as the endlessly self-replicating "Santa Claus machines". Sadly, this chapter is a too brief and hurried summing up, and the book feels incomplete as a consequence.
In mitigation, the last page does list a number of relevant Web addresses which provide the latest planetary news, including one on which you can get a screensaver which will set your PC to work when you are not using it, analyzing data looking for SETI radio signals. When the first message comes through, it could be to you.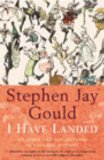 I Have Landed: Splashes and Reflections in Natural History
by Stephen Jay Gould
Jonathan Cape, £17.99 ISBN 0-224-06299-9
Twenty-five years after his first popular science essay collection, Stephen Jay Gould bids a conscious goodbye to his readers with this last compilation, published shortly before his death. This engaging meander through the 'palaeontology of ideas' includes elements of Gould's own personal and family history as well as the history of science and the evolutionary history of life. (Non-American readers familiar with Gould's books may be reassured that there's not too much baseball in this one.) The essays largely deal with the kind of historical details that at first seem trifling and irrelevant. Occasionally that's because they are, and it doesn't work – as when Gould investigates why the zoologist E. Ray Lankester attended Karl Marx's funeral, and concludes that they were friends.
However, many other pieces are truly fascinating.
What linked Vladimir Nabokov's two careers in lepidoptery and literature? Why did physicians ever apply ointment to weapons as well as to wounds? Why did Freud believe in Lamarckian inheritance? And how did pre-Darwinian geologists explain fossils?
Parts of the book have an autobiographical and occasionally schmaltzy dimension. For instance, one essay concerns why the author began the new millennium by singing Haydn's Creation. However, even this personal musing leads into an interesting digression on how the first two chapters of Genesis, taken literally, are inconsistent with each other as well as with scientific observation.
This is a thought-provoking and often heart-warming read. One could perhaps call it rambling, but only in the best possible sense – a pleasant wander through thought, with a most erudite guide to point out the beautifully obscure facts along the way.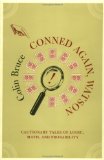 Conned Again, Watson: Cautionary Tales of Logic, Math and Probability
by Colin Bruce
Vintage, £7.99, ISBN 0099428571
This book fizzes with ideas, paradoxes and problems, drawn mainly from logic, probability and statistics, and presented in a Sherlock Holmes setting. As you might expect, poor Dr Watson blunders from error to error, from which he is rescued, contemptuously, by Holmes. Topics include the birthday paradox, the drunkard's walk, various gambling fallacies, Pascal's triangle, the Wason test, the Monty Hall problem, the mark-releaserecapture procedure for estimating population sizes, and there are also introductions to Bayesian logic and game theory. So, a great deal is crammed into the book's 288 pages.
As always with a book like this, the question arises: Who is it intended for? Certainly, anyone who is studying, or has studied, probability and statistics will probably find that it illuminates familiar ideas, and also introduces some new ones. On the other hand, it is doubtful whether a complete beginner will learn very much, unless they either approach the book with dogged determination, or else have a strong natural aptitude for the subject. Indeed, the only major criticism of the book is that it attempts too much, and so skims over important points. For example, this applies to one of the key problems relating to probability (pages 103–106), and readers should certainly visit the author's web site for an additional explanation.
Also, lovers of Conan Doyle's stories are warned that they will find, in every other paragraph, something to make them wince – not merely the many anachronisms to which the author freely admits (such as Lewis Carroll writing Alice in Wonderland two years after his death), but, more especially, the language. For example, Conan Doyle's Holmes would never have counselled Watson to "recharge his batteries", and Watson would never have been so ungentlemanly as to address a clergyman as "Reverend", or use the word "pub".
But, in sum, it's an entertaining and lively book. Recommended.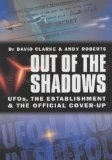 Out of the Shadows: UFOs, the Establishment and Official Cover Up
by David Clarke and Andy Roberts
Piatkus, £17.99, ISBN 0-7499-2290-7
There are lot more believers with a serious interest in UFOs than sceptics. This can present something of a dilemma for publishers who naturally want to sell as many books as possible. It is therefore perhaps not surprising that the cover notes for this book are clearly aimed at convincing believers that the Truth lies within these pages – and, by and large, it does.
Unfortunately for supporters of the ET hypothesis, the Truth is probably not what they really wanted. Clarke and Roberts meticulously document the truth about official interest in the UFO phenomenon in Britain and prove to this reviewer's complete satisfaction that there has indeed been a long and misguided history of official cover-up.
The problem is that what has been covered up is not government and military knowledge of alien technology or even recovered alien corpses, but simply the very fact that there was any official interest in UFOs in the first place.
The main problem presented by the UFO phenomenon for the Ministry of Defence was not that of a threat to national security from extraterrestrial invasion but simply one of public relations. Although the vast majority of reported sightings can be easily explained in mundane terms, there are inevitably some cases which cannot. This in no way implies that such sightings must be of alien craft. It simply means that we do not have sufficient data to draw definitive conclusions. But the MoD worried that the mass media and the Great British public would not see it that way. In the authors' words: "If any cover up does exist, it is a cover up of ignorance." This book is to be recommended as a serious assessment of the history of official involvement in UFOs – no massive cover-up, just an ongoing small-scale monitoring of the situation.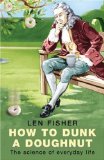 How to Dunk a Doughnut: The Science of Everyday Life
by Len Fisher
Weidenfeld & Nicolson, £12.99, ISBN 0-297-60756-1
You have to be very dedicated to science to dunk and eat 140 biscuits with a stainless steel tube thrust up your nose, chewing for a specified count, while a colleague presses buttons to record and analyse the results. This is how people win Ig Nobel prizes ("for scientific achievements that cannot, or should not, be reproduced"), and indeed Len Fisher is an InGloreate. In fact, he drops a hint in this book that he was considered for a second prize.
Fisher, like the Igs, has a serious point, however. He believes that people are hungry to understand good science, and that everyday things are the way to help them connect to it. The study for which Fisher won his Ig had further ramifications than simply finding a way to dunk a biscuit so it wouldn't collapse under its own weight. Unlocking the secrets of capillary action and stress cracks opens the way to studying not just biscuits but how trees grow and how solid materials fracture.
What is fascinating about Fisher's book is how many everyday mysteries fill the world. Working out the best strategy for supermarket shopping, boiling an egg, or throwing a boomerang may not sound like the stuff of Real Science, but each problem leads to a more complex one. Except, it has to be said, for supermarket mathematics, though this chapter does give you the quick tip that the higher the proportion of prices ending in 99p on your register tape, the more relatively expensive your supermarket is likely to be. Even something as deceptively simple as catching a ball is immensely complex – if you try to do it via mathematical calculations, anyway. Spending many hours on such ordinary problems may seem odd. But the results are certainly entertaining.
Did you know you can restore the mint flavour of gum by taking a sip from a sweet drink? Try it.
Wendy Grossman
(This review originally appeared in New Scientist)