Submit content / news
For the printed magazine:
This email address is being protected from spambots. You need JavaScript enabled to view it. .
For the website or news columns:
This email address is being protected from spambots. You need JavaScript enabled to view it. .
Read the submission guidelines.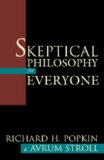 Skeptical Philosophy for Everyone
by Richard H. Popkin and Avrum Stroll
Prometheus Books, ISBN 1-57392-936-0
Skeptical Philosophy for Everyone presents a history of major philosophical controversies by focusing upon the role of scepticism within these debates. The authors consider topics in ontology, epistemology, religion, ethics and political theory and present brief biographies of the major philosophers involved.
The starting point for their discussion is radical scepticism concerning the existence of the external world and the possibility of knowledge.
The history of such concerns is traced from the ancient world (Socrates, Plato and Aristotle), through to its modern formulation (Descartes, Locke, Berkeley and Hume) up until the 20th century (Russell, Moore, Austin, Wittgenstein and Derrida).
The authors then move away from such radical questions to consider the role of scepticism within specific philosophical controversies. These include the notion of religious certainty, claims of ethical knowledge and the balance between effective government and the need to be sceptical of the political claims. This last topic is presented via a discussion of the role of sceptical texts in the development of the American Constitution. The book concludes with a debate between Stroll and Popkin on the modern relevance of scepticism.
Stroll advocates a commonsense rejection of radical scepticism based upon the writings of Reid, Austin and Wittgenstein. Popkin contends that scepticism has a continuing and valuable role within philosophical debate. Interestingly, however, both seem to agree that the postmodern fashion of using scepticism to promote relativism and trivialize science should be opposed.
While I tend to agree with Stroll (the person who continually checks his trouser pockets in order to confirm it doesn't contain a rabbit cannot easily be described as a 'sceptic' or a 'philosopher'), both authors provide an excellent and accessible introduction to the historical importance of scepticism and to the practice of philosophical analysis.