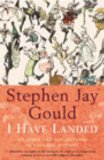 I Have Landed: Splashes and Reflections in Natural History
by Stephen Jay Gould
Jonathan Cape, £17.99 ISBN 0-224-06299-9
Twenty-five years after his first popular science essay collection, Stephen Jay Gould bids a conscious goodbye to his readers with this last compilation, published shortly before his death. This engaging meander through the 'palaeontology of ideas' includes elements of Gould's own personal and family history as well as the history of science and the evolutionary history of life. (Non-American readers familiar with Gould's books may be reassured that there's not too much baseball in this one.) The essays largely deal with the kind of historical details that at first seem trifling and irrelevant. Occasionally that's because they are, and it doesn't work – as when Gould investigates why the zoologist E. Ray Lankester attended Karl Marx's funeral, and concludes that they were friends.
However, many other pieces are truly fascinating.
What linked Vladimir Nabokov's two careers in lepidoptery and literature? Why did physicians ever apply ointment to weapons as well as to wounds? Why did Freud believe in Lamarckian inheritance? And how did pre-Darwinian geologists explain fossils?
Parts of the book have an autobiographical and occasionally schmaltzy dimension. For instance, one essay concerns why the author began the new millennium by singing Haydn's Creation. However, even this personal musing leads into an interesting digression on how the first two chapters of Genesis, taken literally, are inconsistent with each other as well as with scientific observation.
This is a thought-provoking and often heart-warming read. One could perhaps call it rambling, but only in the best possible sense – a pleasant wander through thought, with a most erudite guide to point out the beautifully obscure facts along the way.