Submit content / news
For the printed magazine:
This email address is being protected from spambots. You need JavaScript enabled to view it. .
For the website or news columns:
This email address is being protected from spambots. You need JavaScript enabled to view it. .
Read the submission guidelines.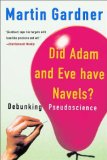 Did Adam and Eve Have Navels?: Debunking Pseudoscience
by Martin Gardner
Norton, $14.95, ISBN 0393322386
Did HG Wells predict the Internet? Does reflexology have a foot to stand on? Is cannibalism a myth? Read this book and find out.
The ever-prolific Martin Gardner has compiled another selection of his fascinating (and highly skeptical) magazine columns. Covering aspects of creationism, astronomy, physics, medicine, psychology, social science, UFOlogy and religion, this is an eminently browsable collection. Gardner has added further comments and updates at the end of each article, creating a vastly entertaining book which deflates the pomposities of pseudoscience with wit and humour.
The title essay gently mocks Christian Fundamentalist myths of the Creation. From the Renaissance onwards, theologians tied themselves into knots of argument over whether beings who were created rather than being born could have navels. It comes as rather a shock to know that one US Congressman seemed to accept these myths even as late as 1944. At his best, Gardner is both scholarly and fascinating. His essay on the myth of the Wandering Jew traces the roots of this myth. He has even found a folk tale about a female Wandering Jew – Beffana, who was too busy doing her housework to stop and watch the Three Wise Men as they rode past. I always knew housework was a bad idea.
I particularly enjoyed Gardner's debunking of the wilder extremes of Freudian dream theory. Is there no end to the number of things Freud could interpret as phallic symbols? Gardner's essay is a timely reminder that sometimes a cigar is only a cigar.