Submit content / news
For the printed magazine:
This email address is being protected from spambots. You need JavaScript enabled to view it. .
For the website or news columns:
This email address is being protected from spambots. You need JavaScript enabled to view it. .
Read the submission guidelines.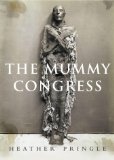 The Mummy Congress: Science, Obsession and the Everlasting Dead
by Heather Pringle
4th Estate, £15.99, ISBN 1841151114
Among the theatrical attractions of 1830s Britain was "mummy unrolling". Audiences of up to 2000 people paid to see entrepreneurs unwrap Egyptian mummies on stage. Heather Pringle's book is the 21st century equivalent, investigating myths and the truth about mummies.
It's not just Egypt. Pringle found mummies in Russia, China, Peru, Chile and Scandinavia, and interviewed the dedicated (and sometimes eccentric) people who study them. She met many mummy experts, including one of the men who embalmed Stalin, and a forensic scientist who specialises in investigating the "incorruptibility" of saints' bodies.
Interest in mummies has not always been purely scientific. A 12th-century mistranslation of an ancient manuscript implied that powdered mummy was a powerful medicine for a range of illnesses. So tombs were raided and mummies ground into powder. Until less than a century ago, the powder was also used as a pigment for oil paint. Pre-Raphaelite artist Edward Burne-Jones was horrified to discover what he had been using, and promptly gave the tube of paint a decent burial in his garden. Early mummy collectors were a strange bunch. Victorian racist George Gliddon obsessively measured the size of mummies' brain cavities in a forlorn attempt to "prove" white "superiority". Edwardian Egyptologist Grafton Elliott Smith collected mummified penises. Why? Today's experts are more respectable, but no less interesting. They complain that their studies are underfunded. Maybe this will change now that Pringle has given them such good publicity.