Submit content / news
For the printed magazine:

This email address is being protected from spambots. You need JavaScript enabled to view it.
.
For the website or news columns:
This email address is being protected from spambots. You need JavaScript enabled to view it.
.
Read the
submission guidelines
.
Features

Questioning Randi
Tony Youens provides us with an exclusive interview with James "the Amazing" Randi
The Missing Airmen
It is a small enigma in a world of unceasing strangeness, but there in Charles Fort's Wild Talents, at the start of Chapter 17, is the bizarre case of the vanishing airmen. Paul Chambers investigates…
Mrs. Gaskell's Elephant: The Story of a Hoax
by Chris Willis
Wild About Harry
Chris Willis takes a look at children's fiction in the light of criticisms by religious fundamentalists
Features

Ear Candles – The Brain Softening Effect: An Instructive Tale
Norman Pridmore reflects upon his personal crusade against a pseudoscientific therapy
Science or Non-science?
Doug Bramwell examines the features which distinguish science from pseudoscience
A Case of Spirits
Chris Willis looks at the history of spirit photography
Do Astrologers Have To Believe In Astrology?
Nick Campion questions whether "belief " is a useful concept when applied to astrology
Features

The Psychological Reality of Haunts and Poltergeists Part I: An Initial Model
In the first of a two-part article, Rense Lange and James Houran summarise their work concerning hauntings and poltergeists and argue that ghostly outbreaks can tell us more about the living than the dead.
In Search of Monsters?
Charles Paxton writes in defence of cryptozoology
Secrets of Area 51
David Hambling explores how secret balloon projects may have contributed to the flying saucer myth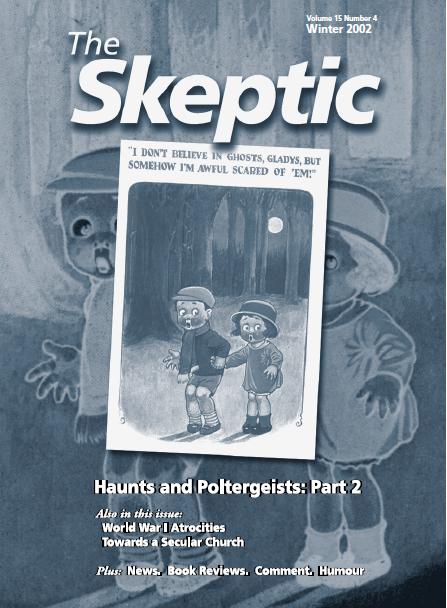 Features

The Psychological Reality of Haunts and Poltergeists Part II: An Advanced Model
Rense Lange and James Houran propose a more advanced model of the psychological processes underlying hauntings and poltergeists
Reconsecration: Towards a Secular Church
Matthew Coniam acknowledges the value of churches, but suggests that we dedicate them to science.
Myths to Die for
Hilary Evans describes new evidence that the atrocities committed by the German army during its invasion of Belgium in 1914 were even worse than we imagined…