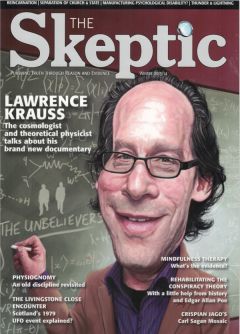 Features
Lawrence Krauss
The cosmologist and theoretical physicist talks about his brand new documentary
Mindfulness Therapy
What's the evidence?
Rehabilitating the Conspiracy Theory
With a little help from history and Edgar Allan Poe
Crispian Jago's
Carl Sagan Mosaic
Physiognomy
An old discipline revisited
The Livingstone Close Encounter
Scotland's 1979 UFO event explained?
This, plus all the usual columns, cartoons and extras.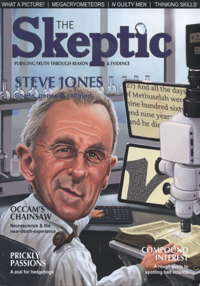 Steve Jones
An interview with geneticist and popular science book author Professor Steve Jones. We talk genes, epidemics and religion
Prickly Passions
Hedgehog aficianado Hugh Warwick discusses that unquantifiable - passion - in the context of science
Occam's Chainsaw
Professor Jason Braithwaite and Hayley Dewe wield Occam's chainsaw to demolish dualist interpretations of the near-death experience
The Skeptical Bobby
Ex-policeman Stevyn Colgan takes another angle on policing
Compound Interest
The Rough Guide to Spotting Bad Science
Plus all the usual columns, puzzles and features.