Submit content / news
For the printed magazine:
This email address is being protected from spambots. You need JavaScript enabled to view it. .
For the website or news columns:
This email address is being protected from spambots. You need JavaScript enabled to view it. .
Read the submission guidelines.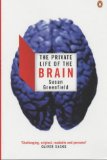 The Private Life of the Brain
by Susan Greenfield
Penguin, £5.99, ISBN 0140264914

Susan Greenfield is the neuroscientist from Oxford who is already very well known as the presenter of the BBC series Brainstory. This book takes us on a further journey trying to understand the elusive workings of the human brain.
Starting from a summary of what is known of the workings of a normal adult brain, she takes us to the brain of a child, a junkie, a nightmare and a depression to come to general conclusions and hypotheses of what makes us tick, what is a mind, what is consciousness. Is mind, reason or "self" to be explained as the extent of the active neural network? What can disturb the normal functioning of a brain? Any normal person needs a balance between feelings, emotions and mind or reason.
Why do alcohol and many drugs as well as dangerous activities give pleasure, in many different ways but with a similar underlying mechanism? What do calm pleasure and excited pleasure have in common? Why does it take only seconds to feel the action of nicotine while the effect of Prozac takes weeks? How far are we pre-programmed to have instincts? Are schizophrenic and depressed brains two opposites on the spectrum of too much and not enough consciousness, meaning cortical control of emotions? Are fear and pleasure as close as twins and is the difference between them just a little bit more of dopamine? Why are pain and depression also twins? Are fear and pain mutually exclusive? Is schizophrenia comparable to dreaming? What happens in the brain when laughing, when meditating?
Can all this be explained by a tilting of the balance between the "mind" and feelings? Will the discovery of new peptides bring more insight? The answers she proposes to those questions range from well-established facts to daringly hypothetical. Brilliantly written, thought provoking but not easy to read. Warmly recommended.