Submit content / news
For the printed magazine:
This email address is being protected from spambots. You need JavaScript enabled to view it. .
For the website or news columns:
This email address is being protected from spambots. You need JavaScript enabled to view it. .
Read the submission guidelines.
Goldsmiths, University of London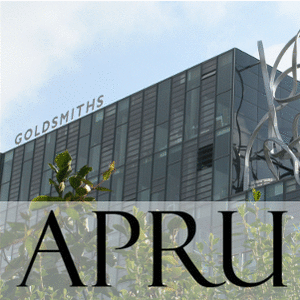 APRU Invited Speaker Series 2012-2013
Department of Psychology, Goldsmiths, University of London
Seminars are held on Tuesdays at 6.10pm in Room LG01, New Academic Building, Goldsmiths, University of London, New Cross, London SE14 6NW. This building can be found at the back of the field. Room NABLG01 is on on the Lower Ground floor immediately underneath the entrance to the building, accessible by stairs in the centre of the building and by lifts at the far end of the building
All talks are open to staff, students and members of the public. Attendance is free and there is no need to book in advance. For further information, contact This email address is being protected from spambots. You need JavaScript enabled to view it. .
A full list of previous lectures and presentations is available. It is also possible to watch, listen and download some of these presentations, and find them on iTunes. Some presentations are also broadcast live online.
NB: You are strongly recommended to register (at no cost) with the APRU's "Psychology of the Paranormal" email network to ensure that you are informed of any future changes to the programme as well as news of related events. You can also follow @chriscfrench on Twitter (note the middle 'c') for announcements.

Autumn term 2012
9 Oct Paul Zenon, Magician and comedian
Mediums at large
23 Oct Martin S Taylor, Hypnotist and magician
Hypnotism without hypnosis
6 Nov Professor Edzard Ernst, Peninsula Medical School, Universities of Exeter and Plymouth,
Why do people respond to ineffective treatments?
20 Nov Dr Niall McCrae, Florence Nightingale School of Nursing and Midwifery, Kings College London
The moon and madness: Myth, metaphysics and science
11 Dec Deborah Hyde, Writer and editor of The Skeptic
The natural historie of the European werewolf
Spring term 2013
8 Jan Dr Jovan Byford, Open University
Beyond belief: A critique of contemporary social psychology of conspiracy theories
15 Jan CANCELLED DUE TO UNFORESEEN CIRCUMSTANCES
Dr Stephen Law, Heythrop College, University of London
Joint presentation with Goldsmiths Humanists Society
The problem of evil and 'Intellectual Black Holes'
29 Jan Professor Adrian Furnham, Department of Psychology, University College London
The psychology of conspiracy theories
5 Feb Dr David V Barrett, Writer
When religions fall apart: Fragmentation and choices
19 Feb Will Storr, Journalist and author
The Hero Maker
5 Mar CANCELLED DUE TO UNFORESEEN CIRCUMSTANCES
Mary Langridge, Associate lecturer, Sheffield Hallam University
Is nature really "red in tooth and claw" or is there room for kindness in the struggle for existence?
12 Mar Professor Elizabeth Valentine, Royal Holloway, University of London
Academic psychology and psychical research between the wars
19 Mar CANCELLED DUE TO UNFORESEEN CIRCUMSTANCES
Rosie Waterhouse, Journalist and lecturer, City University London
The Satanic ritual abuse myth, false memories and weird beliefs: Anatomy of a 20-year investigation
20th Mar Professor Elizabeth Loftus, University of California, Irvine
Memory Matters