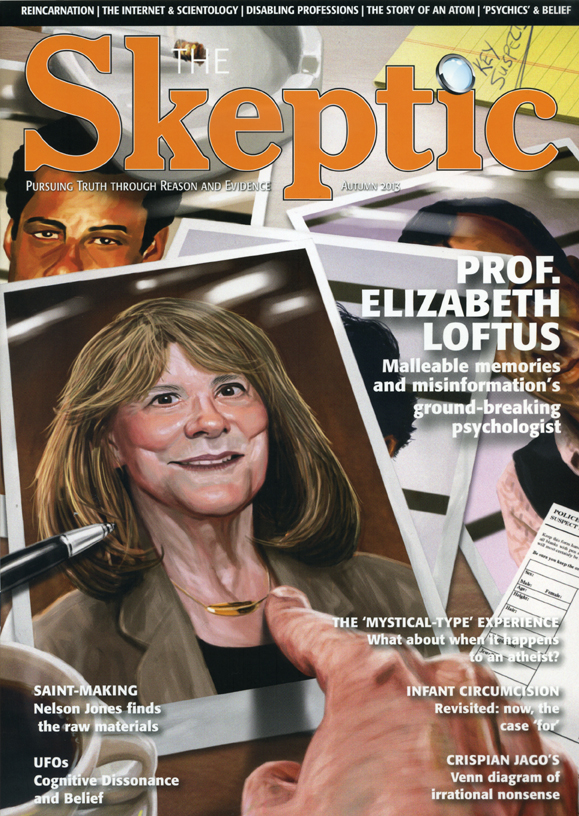 Features
This issue, we're very lucky to have an interview with Elizabeth Loftus, the psychologist who has probably done more to alter the way we think about the formation and malleability of memories. Professor Loftus's work has had a bearing on many legal issues, including the reliability of eyewitness testimony and identification, and 'recovered' memories of abuse. The interview was conducted by Professor Chris French, our former editor, earlier this year at Goldsmiths.
Nelson Jones has written how to make a saints; perhaps unsurprisingly, the best way appears to be to start with a Pope.

Dr. John E. Bucker and Rebecca Anders-Buckner look at how disconfirming evidence may be assimilated by believers in extraterrestrial UFOs.

Alice Herron looks at how atheists deal with a common human event - the 'mystical experience'.

Professor Brian Morris revisits the circumcision debate with a reply to Dr. Marianne Baker's 'The First Cut is the Deepest', published in The Skeptic Winter 2012 issue.
There's all the regular columns and content, including another visit from Brum Skeptics' own Patrick Redmond. This issue's 'Skeptic in the Courtroom' now debuts the second of our two resident legal columnists: Helen Dale blogs as skepticlawyer and is well known in sceptical circles in both Australia and the UK.

This, plus all the usual columns, cartoons and extras.