Submit content / news
For the printed magazine:
This email address is being protected from spambots. You need JavaScript enabled to view it. .
For the website or news columns:
This email address is being protected from spambots. You need JavaScript enabled to view it. .
Read the submission guidelines.
Pocket Essentials, £9.99  (hb), ISBN 978-1-904048-88-6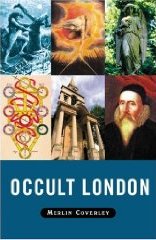 It's hard to see the purpose of this book, which offers no new insights or information, just a series of potted biographies of people and groups in London, some more occult than others, padded with historical background.
Even for a reader with no knowledge of the occult, this would be an insubstantial introduction. It frequently mentions works by, for example, Peter Ackroyd and Iain Sinclair but this only points up the book's inadequacies and how much more could be learnt from reading them.
The Mary Glover witchcraft case in the early 17th century doesn't even mention which part of London it happened in and appears randomly chosen. The section on William Blake offers little more than a quick skip through his life and a list of London addresses that could just as easily be found on Wikipedia.
The author describes the occult as "a continuous history which unfolds, largely unacknowledged…" He claims to "rediscover [the] hidden history, unearthing the secret city and its forgotten inhabitants" and states that the occult "comes to symbolise those neglected quarters of the city and their forgotten histories". Exactly who has forgotten such high-profile figures as John Dee, Hawksmoor, William Blake or Aleister Crowley and places like Spitalfields or Highgate Cemetery? It's less a case of unearthing secrets than "round up the usual suspects". To be fair, Spring-Heeled Jack is less well known but not really an occult figure, more an urban legend.
The Appendix lists various parts of London with occult associations but these are flimsily covered and consist mostly of general his torical information, for example, the Hawksmoor church in Bloomsbury and the (now gone) Mother Red Cap pub in Camden. The entry on Tyburn has more about the nuns who currently live in a small convent there than its occult past.
The size of the book is no excuse; another Pocket Essential, The History of Witchcraft by Lois Martin, manages to be scholarly and readable, neatly summing up the main points without skimping on detail. This book does none of those things.