Submit content / news
For the printed magazine:
This email address is being protected from spambots. You need JavaScript enabled to view it. .
For the website or news columns:
This email address is being protected from spambots. You need JavaScript enabled to view it. .
Read the submission guidelines.
Welcome to The Skeptic Magazine (UK)

Features
Flying Saucers From Moore's?
Was our most famous TV astronomer also a practical joker? On the cover, Steuart Campbell and Christopher Allan mark the recent passing of Patrick Moore.
Is your myth up for renewal this month? 
Use the handy chart to sign up for your new one with Crispian Jago's latest centrefold.
Beautiful Science
Danny Rees looks at the doomed historical attempts to quantify human allure.
The App-aritions are Coming
Hayley Stevens goes ghost-hunting with a smartphone.
The First Cut
Marianne Baker examines our attitudes to circumcision and wonders if we have a blind spot with male genital mutilation.
Sett Theory
Philip Stott tells us how culling badgers is nearly impossible.
Does stress make you fat?
Alexandra Johnstone and John Menzies pick out the science from the tabloid headlines.
The Psychology of Ghosts and Hauntings
In the latest in our Science of the Supernatural series Prof Chris French looks at Factors that might lead people to believe they had seen a ghost.
Plus all the regular features, reviews and columns from Chris French, Wendy Grossman, Michael Heap, Mark Duwe and Mark Williams.



In Volume 22, Issue 3:
Features:
Jon Wainwright on God
Robert Eagle's tribute to Premanand
Ryan Shaefer on blasphemy
Kylie Sturgess interviews Bruce Hood
David Allen Green on the role of scepticism in Simon Singh's legal triumph.
Also:
Editorial; Chris French & Lindsay Kallis
Hits and Misses; Mark Williams, Wendy Grossman and Chris French on the deaths of Tony Corinda, Martin Gardener and Mary Evans respectively, Homeopathy and the 10:23 campaign, the Court of Protection, and an animal abuse registry.
Skeptic at Large; Wendy Grossman on Science and the Media: The Big Bang Theory
Philosopher's Corner; Julian Baggini on Franklin D. Roosevelt's Inaugural Address
Through a Looking Glass Darkly; Mike Heap on the legitimacy of professions and regulation
Reasonable Doubt; Chris French on angels
Skeps and the City; Tracy King on TAM London, with a competition to win a press pass
Galileo's Doughnuts; Mark Duwe with A Comet's Tale
Skeptical Stats; Mark Williams with the observation that sometimes statistics don't lie - they're just plain crazy
Focus On; exploring the Council of Ex-Muslims of Britain
Humour

Sprite, by Donald Rooum, the ongoing saga of an ethereal being who has the misfortune to fall for a confirmed skeptic.
Cartoons by Tim Pearce
Pictures from Hilary Evans' Paranormal Picture Gallery
Book Reviews
Supersense: Why We Believe In the Unbelievable, reviewed by Kylie Sturgess

Letters from our readers
Ray Ward on a new CAM Library: A good thing?
Matt Walters explaining that Sceptics make the worst ghost-hunters
Stueart Campbell and Ray Ward continue to discuss the JFK conspiracy;
Jon Wainwright on seeing things that are not there
Martin Mahner on user-friendly references.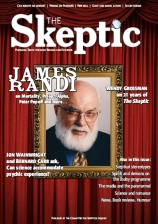 The Skeptic is the UK's longest running and foremost sceptical magazine, which examines science, scepticism, secularism, critical thinking and claims of the paranormal. We are a non-profit magazine published quarterly, although single issues and yearly subscriptions are available online or by post.
We hope the magazine can be an invaluable resource for journalists, teachers, psychologists, and inquisitive people of all ages. Further details about the magazine can be found here.
The magazine is celebrating the conclusion of its 21st year of publication with a relaunch issue which includes new columnists and features, a new format and an increase in size. The new magazine has a much cleaner, more modern appearance and will carry a celebrity sceptic interview in each issue, beginning with an interview with James Randi in Volume 22, Issue 1. Details of the interview and a film of Randi can be found in the Media Archive.
The magazine is also in the privileged position of being able to boast support from an Editorial Advisory Board of internationally recognised experts and celebrities, including: James Randi, Richard Dakwins, Paul Kurtz, Stephen Fry, Derren Brown, Brian Cox, Robin Ince, Tim Minchin, Elizabeth Loftus, P.Z. Myers, Simon Singh, Susan Blackmore, Ray Hyman and David Colquhoun. We would like to publicly thank each of the EAB members (full list here) for their kind involvement, for which we are extremely grateful.
In addition to the magazine, we run a blog for news and articles, a YouTube account for media, and a Twitter account and RSS feed for general updates. We like to receive comments, contributions and criticism through the contact page and are keen to promote organisations and individuals who also publish reliable and interesting content, so please feel free to get in touch.